Writer Richard Louv explores nature-deficit disorder at lecture
The Wilkes-Barre community was welcomed to spend an evening with writer Richard Louv.
The event, which was open to the public, took place on Wednesday, Oct. 17 at the Dorothy Dickson Darte Center on campus.
The event was sponsored by Geisinger, Riverfront Parks, North Branch Land Trust, as well as Wilkes University.
Louv is an author and journalist, most famous for his book "Last Child in the Woods: Saving Our Children From Nature-Deficit Disorder." In this book, Louv coined the term "nature-deficit disorder," which he uses to describe the negative consequences of children living apart from the natural world.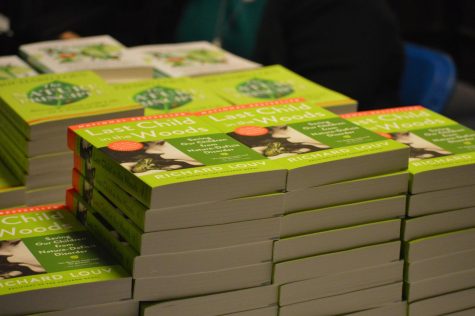 Kevin Roberts, a representive from Geisinger, spoke about how Louv's beliefs alligned with the Geisinger value system.
"We are not just a health care organization that is interested in treating hospitalized patients, we really are more interested in helping our community," he explained. "That's lifestyle medicine. Only a small percentage of your health is impacted by what happens in a hospital. What's more important is how you live your life."
Paul Lumia, the executive director of North Branch Land Trust, introduced Louv, and read a quick biography of the author.
Louv began by speaking about the efforts to make the Scranton/Wilkes-Barre area the healthiest urban region in the country.
"This region could really be a national leader in this regard," he said.
Prior to the presentation, Louv hope spoken privately with Dr. Rhonda Rabbitt, the dean of the school of Education at Wilkes.
"One of the things that could help the most in the Children in Nature movement is teaching it in schools," he explained. "Start training teachers how to take kids outdoors. That would make more of a difference than waiting for school boards to change."
According to Louv, learning in nature can do things like improve cognitive functioning as well as reduce attention-deficit disorder.
"Even when young teachers know [about the importance of learning in nature], many of them often did not have much experience when they were kids of going outside," he explained. "So they don't know where to start."
Louv explained the benefits of having children play in nature.
"Kids who play in natural play areas play differently than kids who play in cement," he said. "They are fair more likely to invent their own games, which is an essential indictor of the development of executive function."
Children in nature are also more likely to invite other children who do not look like them, explained Louv.
In order to help teachers who want to include nature into their teaching, Louv and others in the movement started the Natural Teachers Network.
Louv also discussed the importance of forest kindergartens, which is a type of preschool education that is held entirely outdoors.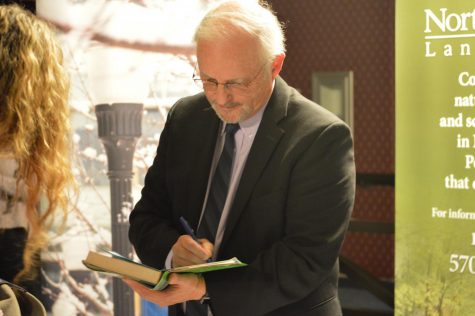 "Ultimately, the goal is to change a culture," he said. "We need more ideas like that. Maybe you, in this region, will help us change the culture."
Louv also discussed parenting, specifically having a hands-off approach called "hummingbird parenting."
"Kids are not going out as much as they did in the past because of parental fear," he said. "Specifically, fear of strangers. In some neighborhoods, there is a need to be scared of strangers, but in most, the world is safer than we think."
Louv held a question and answer period after the lecture.
Dr. Kenneth Klemow, a biology professor at Wilkes University, asked a question.
"As you're advocating for children to be out in nature, how important is it that they actually understand what they are looking at?"
Louv described problems in universities where students are unable to name specific components, but said it is not an issue if young children are unable to name things.
The lecture was followed by Louv holding a book signing outside of the auditorium. His books, including "Lost Children in the Woods: Saving Our Children from Nature Deficit Disorder" were avaliable for sale.