Sordoni Art Gallery, SHINE collaborate for children's summer camp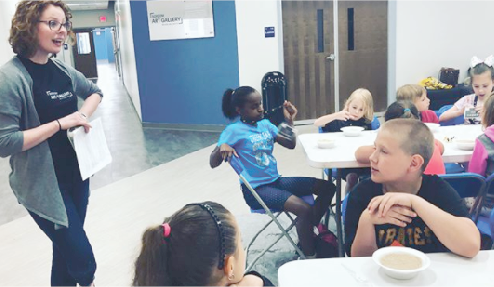 Students from the SHINE Summer Camp had an unforgettable experience creating and appreciating art at the Sordoni Art Gallery this summer.
The experience was part of SHINE's second annual College Student for the Day.
None of the students who participated in SHINE's Sordoni Art Gallery program had ever been to an art gallery before.
Director of the Sordoni Art Gallery, Heather Sincavage, saw this as an opportunity.
"The time we spent with campers was a way to create a positive experience with an art gallery which instills a curiosity about the arts," she said. "Hopefully, this curiosity generates interest to return, possibly more than once, because they find things that peak their interest."
The Sordoni Art Gallery was only one of the multiple departments who were asked to create an activity for the SHINE students. Other areas includes the radio station with Kristen Rock, nursing with Cathy Hauze, robotics with Dr. Yong Zhu, and several others.
Nikki Lewis, assistant director of the gallery, and Sincavage worked together to create a lesson plan for the students.
"SHINE reached out to us to ask if we could create an activity and show the students around the gallery," said Lewis. "We jumped on that opportunity because we don't usually have a lot of children in the gallery, and that's definitely something we want to change in the future."
The students participated in a sand casting activity, which allowed the students to make impressions in bowls of sand which were then filled with plaster, to create a sculpture.
The gallery had a cast iron exhibit titled "Solid Gone" up when the students had their lesson.
"The students loved it," Lewis said. "They were able to see a different kind of art then what is usually considered art."
This is the first year Sordoni Art Gallery participated in the camp, but the second year of the camp's existence.
Carol Nicholas, the Director of SHINE, spoke about how the camp started.
"We wanted to include not only science, literature, but also some art," Nicholas said. "Since we have such a wonderful gallery right on campus, we thought this would be an experience that the students had not been exposed to."
Many of the students had not even had an idea of what a 'museum' entails, according to Nicholas.
"We really had to answer questions about what is a gallery, and what kind of respect we have to have for the artists, and where artists come from."
SHINE gives students a real college experience, complete with roving classes on a schedule, a dorm tour, and lunch at the school cafeteria.
"Our job at SHINE is to plant the seed," said Nicholas. "Down the road, we want nothing better than for one of these students to become a Wilkes student because they walked down campus for College Student for the Day."