Sordoni Art Gallery holds artist lecture for newest exhibit
On Jan. 31, Wilkes University's Sordoni Art Gallery held a lecture and reception for the artist of its newest exhibit.
"The Bones of Us Hunger for Nothing" showcases Angela Fraleigh's complex oil paintings that combine realistic woman figures with abstract design, created by things like paint splatters or metal leafing.
The lecture was held in the Karambelas Media Center.
Much of Fraleigh's lecture focused on the influences of her art, combining things like literature, philosophy and her own personal experiences. Fraleigh began by discussing a book written by John Burger that started her artistic journey.
"In this book, the thing that stood out to me is that meaning is constructed," she said. "This may sound obvious to some, but for me, this painfully stable equation from the book is that men act and women appear. It's something that we see over and over and over again.
"In all the conversations in art I had while I was an undergrad, not once was this idea of the male gaze mentioned. So I felt kind of intellectually and intuitively understand how these formal components came together to create meaning, but I didn't really lock it in with how we come to believe the things we believe in our culture. These ideas really rocked my world at the time."
Fraleigh continued her lecture discussing the idea of the male gaze, showcasing examples in modern media. She then moved on to her own eras of artwork and how these elements influenced her art style.
Showing her early undergrad art, Fraleigh explained the significance the male gaze had on her work.
"What I did was pluck the postures from advertisements and movies and replaced the models, the perfect genetic versions of the human form, with people who I think are perfectly beautiful but just my friends and everyday people," she explained. "Just to see if it would reveal any absurdity to be kind of swallowing this as consumers."
Fraleigh then showed her thesis exhibition for Yale University, "by the time I tell you it will all be forgotten."
"I was always obsessed with the idea of story, and I wanted to see if I could recover it in visual terms," she explained. "I was also interested in private recollection functions when meeting up against a universal norm. I wanted to focus on taking the unwanted and making it desirable."
Upon getting a travel grant from Yale to work in Houston, Fraleigh shifted her focus to art which gave attention to the seduction and oppolance, but scandal, of 18th century novels, as well as the political landscape of the early 2000s. Although the show received criticism for being reminiscent of romance novel covers, what bothered Fraleigh the most at the time was the accusation of being feminist art.
"I don't know why that bothered me so much," she explained. "I had a lot of insecurities and self-consciousness around it. I realized after that it was because feminism has had such a bad rap. I then did what any academic would do; I threw myself into the subject and came out embracing it all the more."
Fraleigh went on to mention an experience she had with a mentor who told her that her artwork was nice but it "behaved well."
"That was a dagger in my heart. I thought I was really pushing the boundary for myself and others," she joked. "I then had a moment in the studio when I was working with the canvases on the ground … where I ended up having a frustrating day and poured a bunch of medium onto the canvas." This art splattering became a staple of her art style.
Fraleigh's experience with her biological father, who came back into her life after no contact for fifteen years, also lead to a revolution in her art style.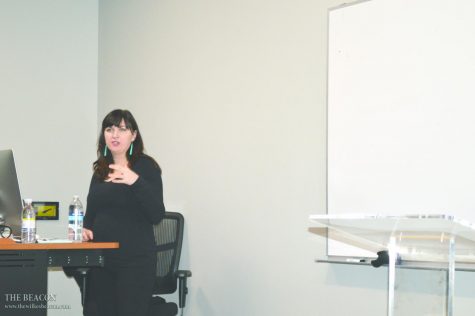 "When I met him, what I found was this man who had been in and out of prison, who was really skinny with a drug addiction. All of this person I had conjured in my mind was replaced by this real-life person."
Fraleigh used these ideas of feminism and the idea of assumptions of others to create large oil paintings with a mix of mediums.
Heather Sincavage, the director of the Sordoni Art Gallery, described Fraleigh's art with a personal touch in the accompanying exhibit magazine.
"There are those artists whose work stays with you. They depict your thoughts in a way you could not have imagined. Angela Fraleigh is one of those artists."
The lecture, which was attended by a large group of students, faculty, and members of the community, touched many hearts.
Jordan Fritz, a senior communication studies major, remarked on the artwork.
"It's just incredible. It's cool to see her kind of background on how she constructs the art, and how she layers things, and her pieces and why she came up with what's she's doing," she said.
Angela Fraleigh, who resides in Allentown,  received her BFA from Boston University and her MFA from Yale University. She currently holds a number of awards, including the Joan Mitchell Foundation grant. She has upcoming exhibits in places throughout the country including the nearby Reading, Pa., in 2019.
Sordoni Art Gallery recently reopened in its new location in the fall semester of 2017, with the opening of the Andy Warhol exhibit, to loud acclaim.
The gallery will also hold free lunchtime lectures, titled "Art in Context," which go along with the exhibition. The first of three lectures will occur at noon on Feb. 6. inside the gallery. The lecture, entitled "Sparking Change: The Effectiveness and the Consequences of the Me Too Campaign," will be given by Dr. Ellen Newell of the university's psychology department. Attendees are encouraged to bring lunch to the lectures.