'Wilkes is the reason I am who I am'
Business school namesake Jay S. Sidhu visits Wilkes
On Oct. 17 at 3:30 p.m., to a full house in the McHale Gymnasium, President Patrick Leahy announced an unusual cell phone policy — to have them out, to take photos and videos and live tweet an event that he felt was worth utmost celebration.
The occasion was a Q&A with Jay S. Sidhu, 1973 graduate of the Wilkes University MBA program, former member of the Wilkes Board of Trustees, and namesake of the University's school of business and leadership.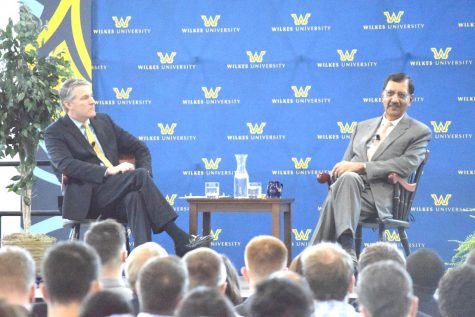 Sidhu is the chairman and CEO of Customers Bancorp and Customer's Bank, headquartered in Wyomissing, Pa. In January, Forbes ranked Customer's Bancorp as number 35 out of 100 on their largest banks list. According to a press release on the financial institution's website, they are also the number one Pennsylvania-chartered bank on the list. He has also won a host of awards, with many years of experience in the banking field.
Leahy began by thanking faculty, alumni, representatives from local businesses and all other members of the crowd for attending.
"In particular, I'm thrilled to have our superstar students join us today for what is, I promise you, a very special day at Wilkes University," Leahy said.
Leahy pointed out that almost 30,000 people have graduated from the University since its founding in 1933 — and how special that made Sidhu's presence.
"I can tell you today that we have with us, quite possibly our most successful alum, or at least one of our most successful alums," Leahy claimed.
Sidhu, in humility, later rebuked Leahy's claim.
After Leahy spoke, he invited senior business major Aaron Sadowski to introduce Sidhu. Sadowski has interned at Customers Bank, and is currently treasury and corporate planning project assistant there, according to his LinkedIn profile.
Sadowski read a short biography about Sidhu before introducing him, and touted Sidhu's leadership skills from firsthand experience.
The Q&A was presented as informal; Leahy and Sidhu sat across from each other at wooden chairs, a pitcher of water on the table separating them, and had a "conversation," as Leahy put it
During the talk, Sidhu narrated his family life and humble beginnings in India, and how he came to be the CEO of Customers Bank.
Sidhu also discussed how he found his way to Wilkes, which he said is what changed everything for him.
Sidhu attended business school in India behind his parents' backs — they wanted him to be a doctor, or an army officer — but he knew he wanted to continue his education in the United States.
"My greatest dream was to come to the United States and to study. And so, Wilkes is the reason I am who I am."
When Sidhu decided to come to the United States for his MBA, he did not have enough money for the application fees.
"I had postcards made up and sent them to many different schools, and Wilkes was one of the schools that responded and sent me an application."
Sidhu answered questions posed by Leahy and audience members about business and banking, but went further to provide life lessons he has learned; including that he is always working to better himself, that he never goes to sleep without reading, and that he never gives up.
"Never, ever, ever, ever, ever, ever give up when you are passionate about the clarity of your vision … because there will always be obstacles all along the way. You will have nine out of ten people tell you it will not work, but if you are passionate, never give up."