Profile of a new professor: Dr. Ryan Henry, chemistry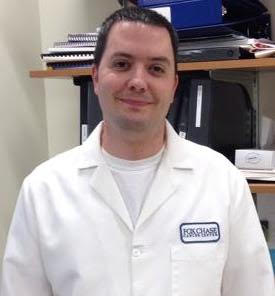 Dr. Ryan Henry, originally from the suburbs of Philadelphia — specifically, Pipersville — will be one of the 25 new faculty members joining the Colonels this year.
Henry will be teaching an introductory chemistry course, along with the lab. He mentioned that he will really enjoy teaching biochemistry and looks forward to the possibilities of new upper level courses.
Henry was a recipient of a National Institutes of Health Training Grant that gave him the ability to do his post doctorate research on histones at the Fox Chase Cancer Center. He explained that histones help organize the DNA so it can fit inside of the nucleus of the cell, and he considered the histones' role of regulating the access to DNA.
He said the importance of it was gene transcription. He and his constituents looked at these chemical modifications using mass spectrometry, an analytical technique. In other words, Henry looked at different proteins and how they decide where and why they modify the histones.
"All of the work needed to be self-driven," he said. "If your higher-ups needed you to do something, they didn't tell you how, you had to find out for yourself".
Henry attended John Hopkins University to earn his bachelor's degree in biophysics, and his master's and doctorate degrees in biochemistry from the University of Rochester. He said that the hybrid sciences are the way to go. As a doctor of biochemistry, it was a mixture of math and science, which is right up his alley.
Henry likes the small class size at Wilkes, and looks forward to being able to interact with his students while teaching. He advised his students to go to their professors' office hours.
He said, "we all have the same goal, and that is for you to pass the class; your education is in your hands and you are the one who gets the grade."
He also mentioned to do the assigned homework, graded or not, because there is a reason your professor is assigning it. Another piece of advice Henry shared is to ask questions in class.
When he's not teaching, you can find Dr. Henry playing board games or video games from his collection of roughly 170 games. He is also an animal lover, and plays with his rescued cat, Bruce, who, he jokes "isn't very agile."