"Good Samaritan" Wilkes students offer help to residents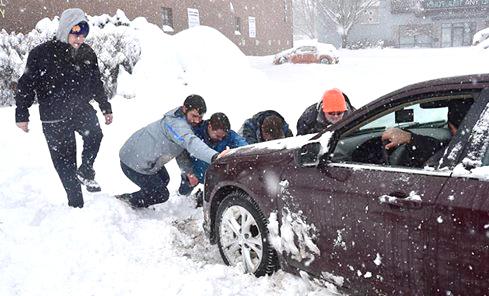 In the aftermath of Stella, four Wilkes students showed what it means to "Be Colonel," using their snow days as an opportunity to do some good in the community.
On one of their days off, when about 22 inches of the fluffy white stuff were dropped on the city, students Cody Morcom, Dylan Fox, Teddy Marines and Corey Cowitch took to the streets to assist residents who were stuck in the snow.
"In all honesty, we were originally going to meet a friend of ours but as we went to meet him, we ended up stopping five different times to help various people out, including a Wilkes-Barre police officer," Morcom said.
According to Fox, the group was planning on going sledding.
"…Our friend we were going to go with got tied up with something else. Since we were already driving around on snow day one of three, Teddy decided to keep driving around," Fox explained.  "Once we helped one car, it led to another, and the ball kept rolling. It was really fun and the people we were able to help were really appreciative of our good deeds."
"By the third person, we changed our motive from meeting our friend to just generally helping those who could not get out of the snow," Morcom added. "Ted has a beast of a Jeep and it was no problem for us to get through the snow ourselves."
"I don't own a tow rope or winch or else we would have tried to pull some people out using the car. Although I think a little manpower usually does the job just as well," said Jeep-owner Marines.
"We just realized that if we were the ones who got stuck, we would also want people helping us get out of the snow," Marines said. "One of the guys even offered us money, but of course we didn't take it, we were out there for the fun."
"Overall, it was fun doing a little good for people who were very happy to see four boys jump out of a jeep and start pushing their car."
Fox indicated that the four of them did not intend to receive any publicity for their deeds.
"We were simply doing it for the fun of it and to help others out during the poor road conditions," Fox said.