Pretty darn key: Experts weigh in on importance of PA general election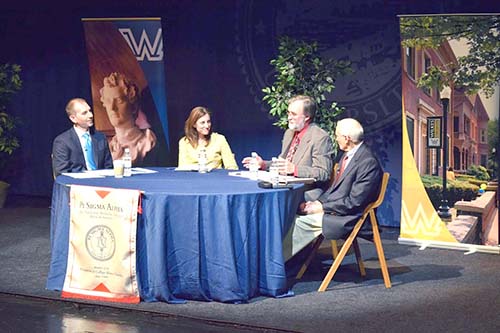 Wilkes University's chapter of Pi Sigma Alpha, the national honor society for political science, held a panel discussion entitled "Election 2016: How Key is the Keystone State?" on Oct. 25 to help inform Wilkes students as to why Pennsylvania is such a key state for the 2016 election.
The discussion was led by Borys Krawczeniuk, a 28-year reporter for The Scranton Times-Tribune. Krawczeniuk has been covering politics for the newspaper since 2001. Krawczeniuk was joined by several nationally recognized political scientists.
Panelists included Dr. Lara Brown, interim director of the Graduate School of Political Management at George Washington University; Berwood Yost, director of the Center for Opinion Research at Franklin and Marshall College and head methodologist of the Franklin and Marshall Poll; and Wilkes' own Dr. Thomas Baldino, professor of political science.
The panel was originally planned to be moderated by MSNBC's Chris Matthews, but he cancelled his appearance the previous day.
Pennsylvania is a swing state, which makes it an important state for candidates to win.
U.S. Politics defines swing states as those "in which neither major political party holds a lock on the outcome of presidential elections." The term can also be used to describe a state whose electoral votes have a high probability of being the deciding factor in a presidential election, the site added.
It also said that in the 2016 presidential election, Pennsylvania is likely to be the state that determines the winner.
According to brookings.edu, 33 states have voted for the same party in the last five elections, while 40 have voted the same since 2000. Pennsylvania, along with Colorado, Florida, Iowa, Michigan, Nevada, New Hampshire, North Carolina, Ohio, Virginia and Wisconsin have not been quite so predictable.
About 75 percent  or more of a presidential candidate's spending goes to these states. The unpredictably of Pennsylvania's voting is what made the panel discussion so important.
Krawczeniuk laughed as he apologized for not being Chris Matthews before asking Brown about her book, Jockeying for the American Presidency: The Political Opportunism of Aspirants. With this, he opened up the discussion in which Brown explained her research that examined what makes a politician successful or not.
Since ambition isn't what is lacking for losing candidates, Brown ultimately found that it had a lot to do with "opportunism," which she defined as the ability to perceive and pursue opportunities.
To study opportunism, Brown looked at the number of years a politician spent in office in relation to how many different positions they have held. The more positions held, the higher the opportunism that can make or break a politician's success, according to Brown.
Brown concluded that Clinton has the lead as far as opportunism goes, and cited Trump's candidacy as yet another sign that "politicians are becoming less and less experienced," as he is running with no prior political experience.
She suspects that Americans have been disappointed by politicians since Lyndon B. Johnson and Richard Nixon's presidencies, with the Vietnam War and Watergate Scandal destroying their trust.
Yost discussed Trump's appeal in Pennsylvania, saying that he might have had a solid chance if not for the areas surrounding Philadelphia which have big populations and are largely Democrat.
"You don't need a lot of counties to win [Pennsylvania]," Yost explained.
Yost also explained the point in the election when he saw young, white college students, especially women, move away from Trump, which he said was after the first debate.
Yost also debunked the claim that there are more Republicans than Democrats in Pennsylvania, citing statistics that portrayed quite the contrary.
All of the panelists agreed that Clinton's approximate five point lead could be attributed to the superiority of the organization of her campaign.
Brown, who teaches many graduate courses on campaigning to aspiring politicians, campaign managers and more, explained that Trump had done everything wrong in his campaign.
She claimed that his success in the primaries could be partially due to the fact that he is a celebrity, explaining that the primaries are more "character-based" for voters.
She described the primary polls as a ton of beige names with one in bright green; voters are more likely to choose familiarity in the primaries. However, Brown said that this familiarity alone might not be enough for Trump to win the general election in November.
"Had [the Republican party] nominated someone else, they'd be winning," Brown said.
As for Luzerne County, Baldino predicted that Trump may win by a small margin.
He discussed how the Republican party has changed, drifting further from primarily fiscal conservatism toward social conservatism, and how that might affect the way that Luzerne County republicans vote.
"The population is older, the education level is not keeping up, unemployment is below the state and national averages… these things tie into Trump's message," Baldino said.