No one injured in Bedford studio fire: Damaged ceramics studio to reopen, says art professor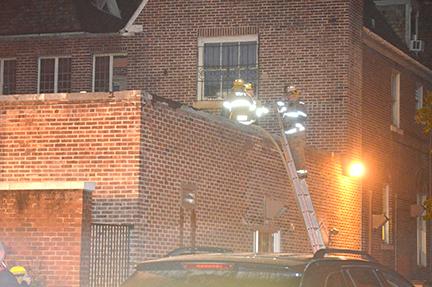 Police and firefighters reported to the corner of South and River streets early Wednesday evening after a fire broke out in Bedford Hall.
Eyewitnesses reported seeing smoke funnel out of the building's roof after firefighters broke holes to let it escape.
According to Public Safety Officer Don Noble, the fire started when the art building's pottery kiln got too hot. The chimney overheated, sparking flames and eventually causing roof damage.
Jean Adams, a pottery instructor at Wilkes, was in the building and said she became uneasy when she smelled smoke. When she started smelling wood burning, she knew something was wrong and called 911.
Soon after, the fire alarm went off, and the people in the building were ushered outside. Noble credits the local authorities for their quick response, as well as Wilkes maintenance workers for turning off the gas promptly.
Adams is hopeful about the immediate future of the building and her studio.
"I'm saying my prayers," she said.
Eliza Crawford, freshman English education major, said she noticed the lights from the third floor of the SUB before her and her friends made their way outside to see what was happening.
"We saw police lights flashing and thought, 'oh, that's a crisis,'" Crawford said.
Noble is optimistic about the potential for swift repairs to Bedford.
"The pottery studio might be out of commission for a while," Noble said. "But we should be able to use Bedford in no time."
As of press time on Friday, Nov. 13, Adams said Bedford Hall and her pottery studio will be up-and-running by Monday, Nov. 16.
"The kiln room will need a little work but classes will continue and student work will be completed," she said.
According to the Wilkes website, Bedford Hall was designed in High Victorian Gothic style and built in 1878, by Bruce Price. It is said to be the earliest of his houses still in existence. Renovations were made in 1923 by the firm of Innes and Levy.
The ceramics studio moved from the basement of Stark Learning Center (with its kiln) to Bedford Hall garage on March 10, 2006.