Comm studies and history professors collaborate on oral history;Presentation at Royal Holloway, University of London Oral History Society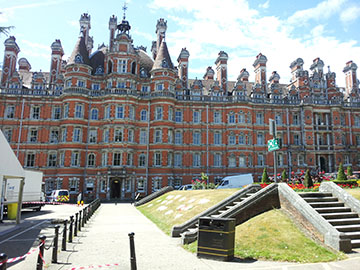 This past July, Dr. Mark Stineand Dr. John Hepp presented a co-authored paper at The Annual Conference of the Oral History Society at Royal Holloway, University of London.
In their paper, The Use of Video in Oral Histories of Science, Technology and Medicine, Stine, chair of communication studies, and Hepp, co-chair of global history and language, discussed what they have learned in their 13 years of working together on this topic, with 10 joint documentaries to show for it.
"We suggested that they film people as you're taking their oral history so you have the words they speak and their expressions," Dr. Hepp explained. "There's an awful lot of nonverbal communication, and the great thing about the tapes is that they capture that. What I love is that it gives future generations the chance to interpret something I did in a way I may have never thought of."
To fit in with this year's theme of science, technology and medicine, Stine and Hepp focused on documentaries involving oral histories of pharmacy students.
This competitive conference is the leading conference for oral history in Great Britain, and also well-known around the world, making it an especially noteworthy achievement for both professors' departments and the university as a whole, as Dr. Stine noted.
According to the conference website, the conference "explores the theoretical and practical using of oral history-based techniques in the broad areas of the histories of science, mathematics, engineering, technology and medicine."
When analyzing the effectiveness of using video to record oral histories, Stine and Hepp found both strengths and weaknesses of the method.
"It really provides the viewer of the oral history more content and more feeling behind what the person is saying," said Stine, regarding the advantages. "We can see some of the themes that emerge from a group of oral histories, and we can use those common themes that emerge to focus the documentary. It gives us a way to build the documentary based on the key things that people we've interviewed have talked about."
The main drawback that both professors noted was the difficulty in making interviewees comfortable in front of a camera, although Stine discussed combating this by building rapport.
Stine raved that this was the "best conference he's been to in years," and Hepp shared his enthusiasm.
"The most rewarding part was to go to a national society in another country, to give a presentation about something that we at Wilkes, including students, did and to have a very positive response to it," Hepp said. "It reaffirms that what we're doing here really matters."