Brand new exhibition opens at Sordoni Art Gallery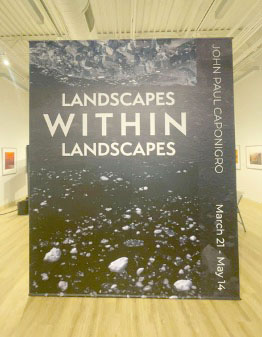 Sordoni Art Gallery welcomes all types of creative minds and their timeless pieces of awe-inspiring artwork. Eye-catching landscapes filled to the brim with electric imagery showcasing the most beautiful images nature has to offer and more. This is the experience one can immerse themselves in while visiting the John Paul Caponigro: Landscapes Within Landscapes exhibition at the Sordoni Art Gallery.
The exhibition's artist, John Paul Caponigro, is not only an established and well-respected environmental art photographer, but he has a large presence in the digital media scene as well, giving direct artistic guidance to many of the largest technology companies such as Adobe, Apple and Kodak so that they steer their focus in favor of the individual artist.
"It was perfect timing because there are new developments in his own practice that he was eager to share so we put together something we feel is very special," said Heather Sincavage, director of Sordoni Art Gallery and associate professor. 
The gallery's walls are lined with piece after piece of gorgeous landscapes from Caponigro's countless travels all around the earth. Caponigro's environmental photography captures the essence of nature, even if it is not all what it seems on the surface. 
Using various forms of photo manipulation, Caponigro is able to capture not the exact reality of the earth, but the perception of it. Turning day into a night sky, entangling different sprawling landscapes into each other and shifting the eye's perspective to morph reality into his own is what Caponigro is an expert at achieving in his pieces. 
"His dreamlike landscapes forge connections between humanity and the world around us – reflecting on ideas of human tradition, environmentalism, sustainability and reconnecting to the earth," said Melissa Carestia, assistant director at the Sordoni Art Gallery. "He believes that 'we live within the land and the land lives within us. We are not apart from nature but a part of Nature.'"
Caponigro's goal is not just to awe the viewer with incredible vistas and spectacular imagery but also make one contemplate about nature, our place in it and how we treat the environment as well as each other during a time of both social and environmental turmoil. 
"Not only does it encourage a deeper connection with our Earth, it encourages a better understanding of ourselves," said Sincavage. "The better we care for ourselves will create an empathy for others and furthermore the globe. It is important to Caponigro that we understand that we are not separate; we are interdependent and therefore care for one self is care for our collective future."
Pieces, such as "Correspondence Nocturne XII," explore the beauty of the silent void that is the ocean during midnight, while pieces like"Inhalation XXIX" and "Global Warning I" showcase the drab and dreary effect that humans have inflicted upon the environment and how those decisions have led to a gray world soon to be devoid of life if left unchecked.
"I've never seen anything like it," said Devyn Cammarota, senior digital design and media arts major and student design fellow at Sordoni Art Gallery. "The way he can blend two or more landscapes together and his creation process is so unique and different and they really give the show such personality. My favorite piece is 'Alignment XXXVI.' When you walk past the title wall all you see is this giant red piece that just stands out and is beautiful. When I got a first look at the pieces that were going to be in the show I saw that one and immediately knew that one was my favorite." 
Journeying to the back of the gallery welcomes one with a mini exhibition. One titled "Process". This exhibition focuses on Caponigro's creative process, how he perceives the world and how he is able to allow the viewer to see it the way he does.
"One of the special things about this exhibition is 'Process,' which is on display in the back of the gallery,"  said Carestia. "I really love that John Paul, who is a leader in his field, is so willing to share his creative process and is able to do it so succinctly and logically." 
Although being a photographer and photo editor, Caponigro is no stranger to drawing, in fact he embraces it. Caponigro uses drawings in order to blueprint and strategize his pieces so the end result is meticulous and precise. If done correctly, a simple tiny drawing of a moon upon a canvas can be the first step of a jaw dropping scenery.
Caponigro is an artist of many talents, incredible forethought and incredible vision. He has given many respectable contributions to the art community at large and will likely continue to do so for the foreseeable future. The John Paul Caponigro: Landscapes Within Landscapes and Process exhibitions will be available to experience at the Sordoni Art Gallery until May 13.