Alicia Roberts: Modern Preppy
Well, here I am Wilkes University, more ready than ever to discover the fantastic style that is roaming through the greenway and classrooms of this small city university.
I believe that every person has the opportunity to express and show their personality through their wardrobe, so being able to see what makes people feel confident, accomplished, and beautiful is so fulfilling.
The first fashionista of Wilkes University that I wanted to talk to was Ali Roberts, a senior Accounting Major and Secretary of SAAC (Student Athletic Advisory Committee). So not only is she good with numbers and athletic, but she looks great while doing it!
When people ask what my style is, I always have a very hard time explaining what I think I fit under. Much like myself, Ali has so many different styles that she could be placed under. First and foremost, she always looks like she is stepping right out of a J. Crew catalog, but on occasion, Ali really likes to mix things up and try new things.
A lot of the clothing that you will see Ali wearing are a mix of must need clothing with must have favorites. What I mean by this is Ali is great at combining a white Tshirt, some jeans, and a statement necklace to finish off a effortless look for a full day of classes.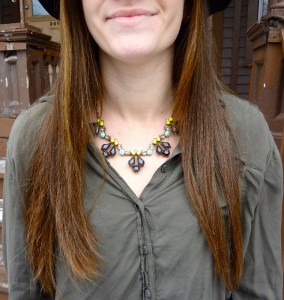 For Ali, its all in the details. She loves to accessorize a simple outfit with an adorable Panama hat, or her Alex and Ani bracelets and rings!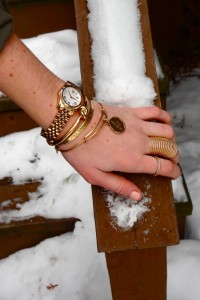 She believes that, to stand out in a crowd, all you need is a whole lot of confidence and a cute pair of shoes!
Today, Ali''s outfit of choice is super trendy, especially during this time of year. She is wearing some American Eagle jeans with two tops which she layered, one from Charlotte Russe and the other from American Eagle. She paired it all with some adorable booties from Steve Madden, and her array of bracelets and rings from Kate Spade, Michael Kors, and the wonderful Etsy. Lastly, she topped it off with a chic hat from Forever 21; and off she goes!
Ali definitely knows how to pick wonderful pieces from cost appropriate stores. I especially love this at our age because, yes, we are all struggling college students looking to leave our mark on the world. What do you love about Ali's outfit? For me, its not what she is wearing. Its the confidence that flows out of her when she is wearing the clothes she wears.