Team-first attitude leads Wilkes to first 2-0 start in 10 years
EDWARDSVILLE, Pa. — How does it feel to be 2-0? This question rang through the Colonel sideline and locker room following Wilkes' 30-24 victory over Lebanon Valley on Saturday. 
This non-conference matchup at Schmidt Stadium gave Wilkes their first 2-0 start since the 2009 season, when the Colonels began with three consecutive victories. 
"For the first time in 10 years, Wilkes football has started the season 2-0," exclaimed interim president Dr. Paul Adams on the steps leading up to Munson Fieldhouse following the Colonels' win. 
The theme of the contest was motivated by wanting to break the 10-year spell and start the season 2-0. 
"Going into the game, our mindset was that Wilkes football has not been 2-0 in a very long time and that we need to get the job done," sophomore tail back Jeremiah Acker said, hitting home the importance of starting the season with back-to-back wins. 
This was prevalent from the moment Wilkes had possession of the ball, making Lebanon Valley feel the sting of regret after they decided to defer the coin toss. 
Following three-and-a-half minutes of play, senior wide receiver Derek Nelson found himself in the end zone. In a game where head coach Jonathan Drach would call for three flea-flickers, the first one had its intended impact, allowing Nelson to receive a 39-yard touchdown pass.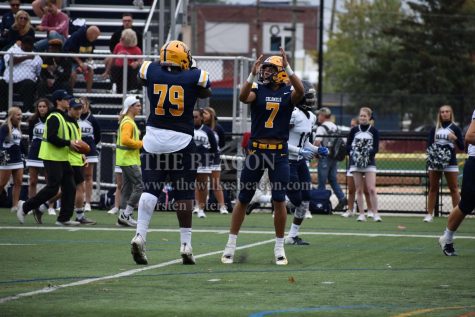 "The game plan going in was to play hard for 60 minutes, and just make sure we take care of the ball on offense," said Nelson. "I believe we did that pretty well today."
Despite Nelson's ability to make it to the end zone, junior kicker Alexander DeSpirito was unable to convert the extra point. 
However, challenges in the kick-game were not limited to Wilkes, as the Dutchmen's Nick Bentz struggled at the start of the game as well. Bentz's 26-yard field goal attempt sailed wide right after Lebanon Valley's first possession, leaving the score at 6-0 for the remainder of the first quarter.
After a Colonel possession resulted in a punt, Bentz refused to make the same mistake twice and cut Wilkes' lead to 6-3 with a successful 41-yard field goal attempt. 
With 11:29 left in the first half, Wilkes began a 14-play, 73-yard drive. Senior quarterback Jose Tabora found junior wide receiver Nick Yanik for a 17-yard gain to the Dutchmen three, setting up senior tight end Bryce Harrison's two-yard touchdown reception on a shovel-pass. 
"It was a great feeling to find the end zone," said Harrison, reflecting on his touchdown. "All I was thinking about was playing one play at a time and taking care of business. It was a great play call, and I'm glad I could get Project Mayhem (tight ends/fullbacks group nickname) in the touchdown column."
With DeSpirito's extra point, Wilkes stretched their lead to 10 with 3:31 left on the clock. However, the quarter was far from over. 
Wilkes secured back-to-back touchdowns when Acker capped the drive with a three-yard scoring run. A 15-yard pass to junior wide receiver Richard Ermeus, a 13-yard pass to Nelson and a defensive pass interference call against the Dutchmen allowed the Colonels offense to march forward before Acker's run.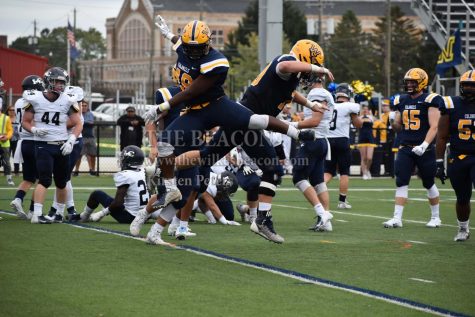 After the first touchdown to "D-Rock," as Acker affectionately referred to Nelson, he noted that the Colonel offense stalled and had to refocus before Harrison and himself could score.
As for his own touchdown, Acker states that he's not one for stats, but he's glad that he could put points on the board. 
With 39 seconds on the clock, Wilkes had established a lead of 20-3. 
However, the next 34 seconds were arguably the Dutchmen's finest of the game. Sparked by a Wilkes unsportsmanlike penalty, Lebanon Valley was able to drive 75 yards in just four plays. 
The Dutchmen capitalized by picking up yards by bunches that resulted in a 17-yard touchdown pass to bring their defecit back down to 10. Those 34 seconds gave the Dutchmen momentum going into the second half and brought the Colonels back to reality that the game was not over. 
In the third quarter, Wilkes forced a fumble on the opening kick, but failed to come away with points after DeSpirito missed a 36-yard field goal. The Colonels did strike first in the second half though when a 20-yard DeSpirito field goal sailed through the uprights to increase Wilkes' lead to 23-10.
On the next Dutchmen possession, the Colonel defense stepped up yet again, stopping Lebanon Valley on a third-and-two from their own 28 to force another three-and-out punt. 
"The game plan defensively was pretty simple — stop the run and force LVC to throw the ball," said defensive captain Bud Moyer, giving some insight as to the Colonel defense's approach heading into the constest. "They're a run-heavy offense, so it was very important to make them uncomfortable by forcing them to throw the ball."
With the defense executing their game plan, the Colonel offense was on a roll. Wilkes marched all the way down the field for a five-yard touchdown run by freshman running back JaQuan Sheals, putting the Colonels up 20 with 10:29 remaining in the contest. Ermeus proved to be the dark horse of the offense, completing a 31-yard pass from Tabora prior to Sheals' touchdown.
This touchdown became the insurance 
that the Colonels needed, as the Dutchmen were able to put back-to-back touchdowns on the board to close the gap 30-24 with only 4:29 remaining.
Drach and the Colonel offense strategically chose to run the clock down. Tabora connected with Yanik for an 11-yard pickup across the middle, allowing Wilkes to enter victory formation for two kneel-downs to conclude the game.
"We didn't have to adjust too much," said Harrison on the game overall. "We were well-prepared and we played a solid game offensively."
Acker, who finished with 37 yards on 14 carries and one touchdown, echoed these sentiments. 
"Coach Drach studied them (Lebanon Valley) to a T — it was over," said Acker. "Coach Drach is a master mind. There was nothing Lebanon Valley did that we didn't practice all week." 
With this monumental victory against Lebanon Valley, the Colonels have their sights set on starting the season 3-0 against Lycoming on Saturday, Sept. 21 at 1:00 p.m. in Williamsport. 
Being a transfer from Lycoming, Harrison noted that this upcoming matchup is important to him. 
"It's one of the biggest games of the year, and I take it personally every time we play them," said Harrison. "I don't think there's too much of an advantage for me, but it'll be a great test for us to see where we stand as a team moving forward."
About the Writer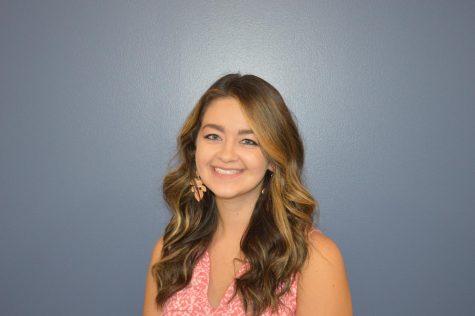 Kirsten Peters, Editor-in-Chief
Kirsten Peters is a senior communication studies major with concentrations in multimedia journalism, broadcast production and strategic communication,...