Football program shifts focus for upcoming season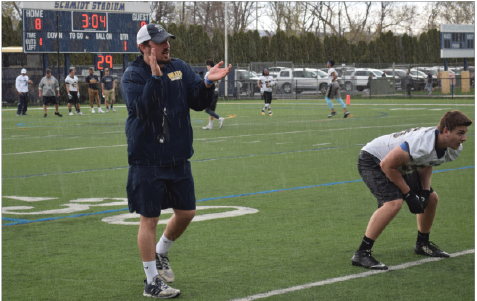 After a losing season in 2017 and six new coaching additions to the 2018 staff, the Wilkes University football program is undergoing some major changes. Under the leadership of new head coach Jonathan Drach, who previously coached at Hobart College for 11 years, the culture of the Colonel Football program is evolving for both the coaches and the players.
With an 0-10 season still fresh from last year, the coaching staff has decided to realign their goals for the upcoming season, making numerous changes to better the program overall.
According to new wide receivers coach Jack Pfohl, "A few of our main goals are to be successful in the classroom, to improve everyday on the football field and in the weight room, and to be involved in community service and giving back."
Pfohl believes these goals are attainable with the adjustments that are being made both on and off the field. As for football, there have been notable changes with the spring practice regimen. Instead of running practices in the evening, the coaches changed practices to bright and early in the morning, allowing the players to establish discipline. In addition, at the end of workouts players are to complete "finishers," which Pfohl explains are meant to push the players both physically and mentally while simultaneously bringing them closer together as a team.
But with change can sometimes come discomfort, which is exactly why returning coach Tripp Merritt, who has transitioned to being the defensive coordinator and safeties coach this season, was skeptical of how well the players would receive Drach's new practice plan.
"I was afraid that the level of accountability Coach Drach expected was going to be too much for some guys, especially at the non-scholarship level," said Merritt. "But I was pleasantly surprised with our retention rate and how hungry these guys are to keep working and succeed."
This hunger might be fueled by one of the coaching staff's new principles.
"I believe our goal is a very simple one – to get one percent better every day," said new linebackers coach and special teams coordinator Tom Elder. "If our guys continue to buy-in to getting better every single day, then it will immediately impact our success on and off the field."
With the anticipation of two-thirds of the team being freshmen and sophomores, Drach notes that it is crucial for the young players and the upperclassmen to prove themselves on the field, drilling home the "one percent better" mentality.
"We really want to focus on the competition piece, where everybody doesn't have a spot right now, and that's a really, really uncomfortable feeling and I want our kids to get comfortable being uncomfortable," said Drach. "I want them to compete every day – that's how we're going to get that one percent better – and that level of competition is how we're going to continually change as we move forward."
In order to achieve this "one percent better" goal, the coaching staff has placed an importance on face-to-face interactions. By investing time into each player, the coaches can ensure that their players are ready not only for every game, but for every test and paper as well. With this hands-on approach, the coaches will be able to satisfy one of their most emphasized goals: quality academics.
Although there are major adjustments being made on the field, the coaching staff is not forgetting about the significant changes being made off the field. As for the new tight ends and fullbacks coach Kelvin Cruz, he is in charge of monitoring study hall attendance and grade checks. The coaches have altered this aspect of the program to accommodate each player, creating a study hall schedule that will run between one to five days a week depending on how well each student has done and is currently doing at Wilkes.
According to Cruz, "We really want to take pride in academics and setting our players up to be successful in life after college, particularly to be good people in general."
This focus on academics is to ensure that each players' student-athlete status is being fulfilled, considering the word "student" comes in front of the word "athlete" in that title. This mantra rang true across the whole coaching staff, indicating how the coaches have outlined a specific set of goals that they are focused on accomplishing together.
In addition to the new set of guidelines getting the Colonels prepared behind the scenes, their new uniforms will have them looking the part on the field. In the fall, the Colonels plan to sport a new yellow helmet and an alternate blue jersey, creating eighteen different uniform combinations.
According to offensive line coach and recruiting coordinator David Biever, these new uniform options are increasing the Colonels' swag factor.
"One change I have seen is in the swag. Yes, I said swag. This adds excitement to the players and potential recruits when you have eighteen different uniform options and two helmets that bounce between new school and tradition," said coach Biever.
Not only are these uniform changes exciting for current Colonels, but Biever also touched on how the coaches always have to think about the future of the program and improving the recruiting process.
Elder echoed Biever's mindset, stating, "Recruiting is without a doubt that lifeblood of any football program, and we understand the importance of creating great relationships with recruits and coaches."
Following this mindset, the coaching staff has made recruiting one of their priorities. They have expanded their search radius differently than in the past with the hopes of finding the best student-athletes around.
By having open communication and a distinct set of goals, the coaching staff is changing the culture of the Wilkes football program. Adjustments to the practice schedule and workout regimen, highlighting face-to-face interactions, placing an overwhelming emphasis on academics, getting new uniform additions, having new recruiting strategies, and wanting to mold the players into great young men are the changes that the coaches have clearly outlined to make the program successful.
Not only are the coaches excited about these goals, but the players seem to be receptive to these new approaches as well.
After being a part of a losing program in high school and here at Wilkes, defensive lineman and junior captain Vinne Werner notes how it's all about learning from the losses and changing one's state of mind.
"I see the mindset changing vastly as this program moves forward with us already taking steps from where we were," said Werner. "Coach Drach did a fantastic job of bringing coaches with him who have the same mindset and are passionate about the little things that are going to help us succeed."
Werner wasn't the only player latching on to coach Drach's new mentality and routine, as junior quarterback José Tabora Jr. expressed his enthusiasm about the changing dynamic as well.
"The new coaching staff brings a more serious and winning attitude," said Tabora Jr. "The whole culture is changing from our meetings to the weight room. Although it is hard to say much before we play, I think I'm right in saying that the whole program is itching to get back."
Although there are several changes being implemented, both the coaches and the players seem to be anxious and optimistic about getting back on the field, which coach Drach notes is right around the corner.
"Everybody comes in Aug. 10 and by Aug. 15, I think we'll be in full pack," said Drach. "Then that's really going to show who's going to impress and who's not going to impress, which is one of the nice parts about having a brand new coaching staff because that's what first impressions are all about."
With the season getting closer every day, coach Merritt leaves a lasting impression on how the culture of the football program is changing.
"This is definitely a very exciting time for Wilkes football, and I know that we're going in the right direction and that we're on track to having a good season. It just takes time," said coach Merritt. "But we're taking care of a lot off the field and I believe the wins will take care of themselves."
With Colonel Football evolving, the excitement surrounding the season is only increasing as their first game against Hartwick College on Sept. 1 at 1 p.m. inches closer.