Nick's Flick Picks: Netflix Halloween spooktacular edition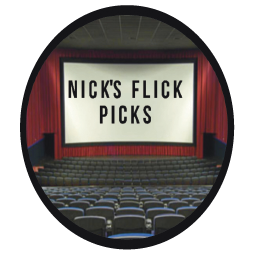 Happy Halloween one and all.
With the horrifying holiday falling right in the middle of the week, it has given the chance for lovers of all things spooky to take the whole week to celebrate their favorite frightful activities.
It used to be a Halloween tradition to run out to a video rental store and stock up on as many movies as you could rent at a time to watch, but now the ever popular streaming service Netflix has got all your horror movies needs covered.
Let it be noted that not all people enjoy the scary activities that the Halloween season bring, but they should nevertheless not be left out of celebrating. This list will be split into both the scary and the spooky to accommodate both types of Halloween movie fans.
The 6th Sense (1999) – Written and directed by M. Night Shyamalan. Starring Bruce Willis, Haley Joel Osment, Toni Collette and Olivia Williams.
What is arguably Shyamalan's best movie, this third time up to bat for the director is a clear grand slam that has longevity and can still give a good scare almost two decades later.
The movie shows the story of a child psychologist (Willis) who is assigned to a troubled boy (Osment) who can see ghosts, after his mother (Collette) begins to notice the strange signs that have been all around her for years.
Though the "I see dead people line" is now infamous and has been parodied time and time again, the movie still holds some curveballs for anyone who has yet to see this classic.
The Conjuring (2013) – Directed by James Wan. Written by Chad Hayes & Carey W. Hayes. Starring Patrick Wilson, Vera Farmiga, Lili Taylor and Ron Livingston.
This is a truly scary movie, and is sure to bring a room full of people to an absolute stand still in a terrified hypnotic state.
Paranormal husband and wife duo, The Warrens (Wilson and Farmiga), are brought in to help new homeowners and parents to five girls, The Perrons (Taylor and Livingston) battle an evil entity attacking their family.
The movie has a strong cast, a good story and a very strong direction. Wan is a master of suspense and leaves viewers on the edge of their seat throughout the entire film. The film has proven to be strong in the horror community that it has started its own franchise, with the most recent installment, "The Nun" recently smashing the box office.
Tusk (2014) – Written and directed by Kevin Smith. Starring Michael Parks, Justin Long, Haley Joel Osment, Genesis Rodriguez and Johnny Depp.
Out of all the three flicks that have made the list, this is surely to be the most talked about amongst all who dare to watch it.
Writer/Director Kevin Smith is usually known for his heterosexual life mate pot selling duo, Jay and Silent Bob, but Smith took a hard left turn in bringing Tusk to life.
An arrogant podcast journalist (Long) travels to Canada, and ends up falling prey to a extravagant recluse (Parks) while searching for a story after his original plans fall through.
The movie then takes some weird, deep, dark turns that have you thinking, "there is no way that's what this movie is about", but it is indeed just one of the strangest films that has ever been.
Although all this weird is happening, it is hard not to watch it until the end, because all the performances are incredible.
If you are really looking to change things up this year, and get a good scare, this is your movie.
Scooby-Doo (2002) – Directed by Raja Gosnell. Screenplay by James Gunn, based on a story written by James Gunn and Graig Titley. Based on characters written by William Hanna and Joseph Barbera. Starring Freddie Prinze Jr., Sarah Michelle Gellar, Matthew Lilard, Linda Cardelinni, Neil Fanning and Rowan Atkinson.
The classic teenage crime fighting team comes to life in this fun live action adaptation of the nineteen seventies Hanna-Barbera cartoon.
The movie begins with Mystery Inc. going their separate ways, until they are unexpectedly brought back together by an amusement park owner who is frightened for his guests after they leave the park changed from how they arrived.
The entire cast perfectly encompass their cartoon counterparts, who many have a deep felt connection to, after watching the cartoon growing up.
It is a nice change compared to other franchises who take one too many liberties in bringing their characters to life on the silver screen.
It is the perfect blend of spooky and funny guaranteed to still be a crowd favorite.
Coraline (2009) – Written and directed by Henry Selick, based on the book by Neil Gaiman. Starring Dakota Fanning, Terri Hatcher, John Hodgman, Jennifer Saunder, Dawn French, Ian McShane, Rovery Bailey Jr. and Keith David.
Though this is the friendlier side of scary, this movie still takes a dip into the strange and unusual long enough to give a few goosebumps.
Based on a book of the same name that was published in 2002, Coraline is the story of a girl who moves into a new house and discovers a small door that leads her to parallel dimension that is seemingly a better version of her current life. Little does she know, however, that this new universe has sinister plans for her.
A great voice cast and excellent stop motion animation really brings this story to life and is an excellent example of how to dance right on the line between thoughtful and scary.
Coco (2017)- Directed by Lee Unkrich and Adrian Molina. Screenplay by Adrian Molina and Matthew Aldrich. Based on an original story by Jason Katz, Lee Unkrich, Matthew Aldrich and Adrian Molina. Featuring the voice talents of Anthony Gonzalez, Gael Garcia Bernal, Benjamin Bratt and Alanna Ubach.
Quite honestly, there is nothing scary about this movie. Though the characters are skeletons, it subtracts nothing from the fact that this movie is one of the sweetest movies that Pixar has released since "Up".
Miguel (Gonzalez) wants nothing more but to play music, but his families long standing "no music" rule forces him to travel to the land of the dead to seek out other family members and gain their blessing.
The visuals in this movie are just absolutely stunning. Pixar Animation literally and figuratively created the computer animated movie, and continually improved their technology in order to deliver the absolute best effects possible.
The message of the movie is to always remember your family. That regardless of whether they are still in our world, or have moved onto the next, we can never really lose the ones we love if we honor their memory while we are still here.
Hopefully one of these picks will get you into Halloween season and either scare the pants off of you, or give you a spooky fun time.
Did we miss your favorite Haloween movie now available on Netflix? Write in or let us know on Twitter.