Movies celebrating 25-year anniversaries in 2018: Conclusion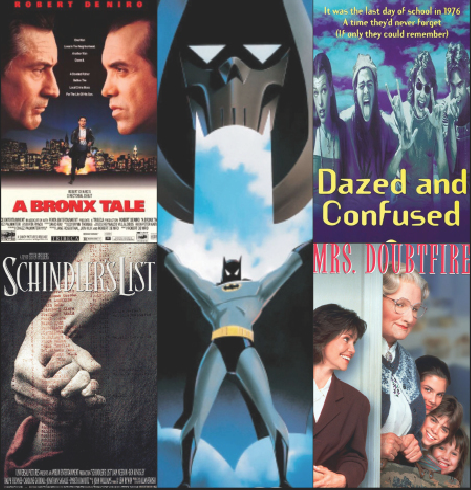 Last week, Nick's Flick Picks took a look at five movies that premiered in 1993 and are celebrating their 25th anniversary this year. As it turns out, 1993 just happened do be one of the best years cinematically, and five titles were just not enough for Nick's Flick Picks so there are five more to add to list to round it out on an even 10. 
Just in case you missed the last issue with the first five picks, here is a quick recap. If you want to find the full list, be sure to stop by The Beacon office in The Karambelas Media and Communication Center to pick up last week's issue, or go to www.thewilkesbeacon.com
The first five titles were, Groundhog Day, The Sandlot, Jurassic Park, Hocus Pocus and Robin Hood: Men in Tights.
Now let's get back on the nostalgia train and look at five more incredible movies turning 25 in 2018.
Dazed and Confused– Sept. 24. Written and directed by Richard LInklater. Starring Jason London, Joey Lauren Adams, Mila Jovoich, Shawn Andrews, Rory Cochrane, Adam Goldberg, Anthony Rapp, Wiley Wiggins and Ben Affleck.
Though this movie is celebrating its 25th anniversary, it feels like it could be celebrating its 42nd based on its realistic 1976 look and feel. The film follows a group of high school kids on their last day of school in '76, and it captures all the wild shenanigans that would not be possible in any capacity in today's society. 
The truly all star cast brings this story, that is basically about nothing, to life and really has you caring about these kids on their last day of school. It's a throwback to a time you may not have been alive for, but somehow still feels familiar.  
This is the movie that launched Matthew McConaughey into stardom and gave him his most iconic line to date, "alright, alright, alright", which he works into the dialogue of nearly every character he plays. 
A Bronx Tale– Oct. 1. Directed by Robert De Niro, screenplay by Chazz Palminteri, based on his play. Starring Robert De Niro, Chazz Palminteri, Lilo Brancato and Taral Hicks. 
By 1993 Robert De Niro was already a big player in Hollywood, having starred in films like The Godfather: Part II, Taxi Driver, and Goodfellas, but this was the year he also showed the world that he knew what to do behind the camera debuting as a director rather than actor. 
A Bronx Tale is one of only two movies De Niro has ever directed, the other being 2006's The Good Shepherd, and it is a perfect directorial debut film. The story is a great mix of heartfelt kid-next-door and wise guy-on-the-corner, that follows a young boy's journey growing up in The Bronx, who is torn between listening to his straight laced, hard working father (De Niro) and the real muscle of The Bronx, Sonny (Palminteri) a known gangster. 
Mrs. Doubtfire– Nov. 24. Directed by Chris Columbus, written by Randi Mayem Singer and Leslie Dixon, based on the novel by Anne Fine. Starring Robin WIlliams, Sally Field, Pierce Brosnan, Lisa Jakub, Matthew Lawrence and Mara Wilson. 
What could be the late great Robin Williams most memorable work, and that is saying a lot considering his obscenely wide range of hits, Mrs. Doubtfire is a true family story that still hits you right in the feels even 25 years later. 
After his wife asks for a divorce, Daniel Hillard (Williams) has limited time to spend with his kids due to a court mandate. In order to get around the legal mumbojumbo, Hillard disguises himself as a female housekeeper, gets hired by his wife, and works within his former home to stay close to his children.  
Schindler's List– Dec. 10. Directed by Steven Spielberg, written by Steven Zaillian, based on the book by Thomas Keneally. Starring Liam Neeson, Ben Kingsley, Ralph Fiennes and Caroline Goodall. 
Based on the critically acclaimed bestselling novel, which tells the true story of how Oskar Schindler came to save more Jews than any other single person during World War II and the Holocaust.
This may very well be the toughest film on the list to actually sit down and watch, due to some of it's graphic imagery, but after viewing, it is impossible not have a sense of gratitude for the life you live. 
Even more, the depictions of the sacrifice, and willingness of characters to do whatever to help his fellow man that Neeson brings to the "character" Oskar Schindler, will leave you with the hope that maybe the human race is not as horrible as we may fear. 
The movie is set in German- occupied Poland during WWII where Oskar Schindler becomes worried for his Jewish workforce after witnessing some of the attrocities that the Nazi's were capable of. He then works to secretly sneak as many of his workers out of the country as he can.
Spielberg brings his mastery of directing to really honor this story and bring it the respect it deserves to showcase a true hero.   
Batman: Mask of the Phantasm– Dec. 25. Directed by Eric Radomski, Bruce Timm, Kevin Atieri, Boyd Kirkland, Frank Paur and Dan Riba. Written by Alan Burnet, Paul Dini, Martin Pasko and Michael Reaves, based on the story by Alan Burnett. Batman created by Bob Kane and Bill FInger. Starring Kevin Conroy, Mark Hamill, Loren Lester, Melissa Gilbert, Robert Hastings, Stacy Keach and Dana Delany. 
What might be the best Christmas gift the world has ever recieved, this classic, animated Batman movie still holds up brilliantly to entertain an entirely new audience of Bat-Fans. 
Batman must go up against a new masked vigilante that has come to Gotham, but this Phantom will take his enemies to the one place Batman will not, the morgue. It is up to The Dark Knight to figure out who this Phantom is and why they're trying to permanently punish Gotham City's rogue gallery. 
Do you think Nick forgot a serious pick? Let The Beacon know by reaching out on Facebook, Twitter or Instagram by following The Beacon on social media.