Raising money for charity with style through Actions Over Words
How Alec Levin '20 hopes to bring change by partnering with charity initiatives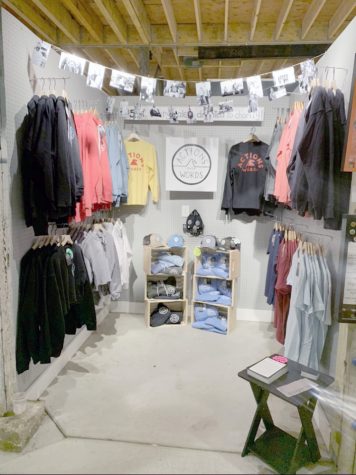 Alec Levin, a member of the Wilkes Class of 2020, has created his own apparel company, Actions Over Words. For every item sold, $5 is donated to charity.
When he was 17, Levin attended a leadership conference in N.J., and listened to public speaker Mike Smith, who inspired him to help others. Levin said he was "inspired to make a change in my life by figuring out how I can make an impact on the world."
A short amount of time later, Levin founded Actions Over Words on Feb. 2, 2015, an apparel company with unique designs. Out of every sale, $5 is donated to various charities, one that is chosen for every month.
"Ultimately, actions speak louder than words," said Levin. "I wanted to make an impact with my actions instead of my words."
It was not just the name of Levin's company that was dearly to him. The logo itself — an ocean wave with "Action" above and "Over Words" below the wave — also has a unique story behind it.
"Incorporating a wave into our logo with 'Actions' being on top of the wave was important for two reasons. First, because I grew up on the beach, and second, because waves resemble a movement and that's what we are trying to create with Actions Over Words," said Levin.
However, in his sophomore year, Levin became so busy with tennis and his college courses, leading him to dissolving the business. After graduating, Levin started his career in financial services in Boston. Despite that, something felt wrong to him, and he wondered where his path in life would go.
"I called my dad and told him how I just didn't feel like myself. I felt like I was trying to be someone I wasn't," said Levin.
Fortunately for Levin, his father remained supportive in Levin's dreams in whatever career he would take. On Jan. 12, 2021 Actions Over Words was officially launched as a full-time business, based out of a garage in Cape May, N.J.
Actions Over Words is not a one-man project. Fortunately, Levin has the help of family members and friends who offer to volunteer their time and effort. With the majority of apparel being printed in Wilkes-Barre, Levin's girlfriend and her roommates hold onto the large delivery boxes until Levin comes to pick them up.
Levin also credits his 17-year-old sister Sophia, whom he considers to be the chief-operating- officer of their company. Sophia is in charge of the general inventory. She helps with fulfilling orders and shipping them to their locations.
"Actions Over Words has brought nothing but good things into my life being alongside my brother. Every day is a new adventure, and Alec and I love the challenges that we are faced with every day," said Sophia Levin.
Despite the company still being fresh and new in the apparel business environment, it has already proven to be a success.
One charity project involved the Michael J. Fox Foundation, which raises funds for research of Parkinson's disease. By selling apparel, Actions Over Words was able to raise almost $8,000 for the foundation. With a loved one dealing with the disease for over 10 years, Levin was amazed at the support.
Levin has explained that seeing the influx of charity funds has left him speechless, and he wanted to give credit to those who donated.
"I think about it a lot and can't believe the amount of support that we get," said Levin. "It's not me raising this money, it's 'we.'"
Actions Over Words' current charity partner is The Happy People Foundation. The organization is seeking to buy a handicapped accessible school bus for students at Dibra Special Needs School located in Dibra, Albania. The foundation explained that students "must walk to school every day, which is especially difficult during the winter months." This led to students not being able to attend classes.
Actions Over Words has made special bus logo designs for their apparel, with all proceeds going to the foundation.
Actions Over Words can be reached on their Instagram page, @actionsoverwordsapparel, or one their website. Levin is always open to hear new suggestions, such as design or charity ideas.
After raising a total of over $11,500 for these various organizations, Levin hopes that more people will become involved and participate in their cause.
"This is something we have worked very hard to create, and it's a movement we believe the world needs to hear about," said Levin. "With every purchase, we believe in making the world a better place to live, $5 at a time."