Rhyming to his future wife; surprise proposal happens at Talent Show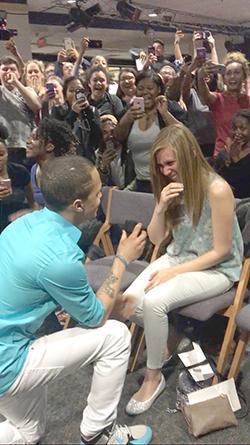 Corey Bullock had a special performance planned for the MSC Talent Show on April 7. He performed a rap where he proposed to his girlfriend of 2 years and 9 months, Emily Grullon.
At the end of the rap, he said the line "As long as I got you, I know I'll be alright. Forever in my life so I gotta ask," and then he asked her that one special question to become his wife.
When Corey got down on one knee, the whole crowd flooded around the couple whether it was to get a picture, or just to see what was going on.
Senior, Tyheed Jackson, one of the hosts at the talent show said, "There were tears coming out of people's eyes; it was a really cool experience!"
"She didn't see it coming at all. I told her I was performing one of my other songs  and I even went as far as to practice that song in front of her to make sure she had no idea. Once the slide show came on and she saw her picture on the screen, I think she started to question everything. Her face was priceless," Bullock said.
Grullon admits that she was speechless while the proposal was happening.
"I was so confused when I saw my picture pop up. I thought to myself, 'Oh my gosh what is he about to do?' I looked at him probably with a confused look on my face and he just smiled at me from the stage," Grullon stated.
As soon as she heard him start rapping, she instantly got butterflies. She said that the rap was beautiful and the lyrics meant so much to her.
"We didn't look away from each other the entire time he was rapping. It was just such a special moment," she continued.
Leading up to the proposal, Bullock only told people on a need-to-know basis. He told the people that he needed help from to pull it off as well as her family.
Tyheed Jackson was one of the few people who had to keep this secret and he admits that seeing this take place was a very cool experience.
"I didn't know how to react so I just screamed and was smiling from ear to ear. It was very exciting and I wish them the best of luck. Corey stole the show with the proposal and I give him a lot of respect for preparing a song and expressing his love for his fiancé," Jackson said.
The couple began talking when Grullon lived in Florida and Bullock lived in Wilkes-Barre. After about six months of talking long distance, Grullon moved back to Wilkes-Barre. The couple instantly had their first date that took place at the mall.
"The second I started walking towards him, he ran over to me and lifted me up and hugged me. We just spent the date walking, talking and goofing around. I was incredibly nervous so his silliness definitely helped to break the ice," Grullon stated in regards to the date.
"As corny as this sounds I would say I knew I wanted to marry her the very first day we met when she came back up from Florida," Bullock stated.
When looking towards the future, Grullon said that she is looking forward to marrying the love of her life and being able to come home to her husband. She said that it will be nice knowing that no matter what happens throughout the day, she knows that it would be okay because she would be able to see him at home and he will make everything better.
When talking about life after college, Bullock said, "I'm not the materialistic type of person. Whether I'm working a career in criminology or if my music gets bigger, either way I'll be happy and successful because I already have the most important part of my life, and that's Emily. I know we both have a bright and exciting future ahead of us."
Bullock admits that he went back and forth with nerves before the proposal. He said, "For the most part though, I wasn't nervous because we've been together so long, we are one another's rock. I found my soul mate, and I knew it was all going to be alright."