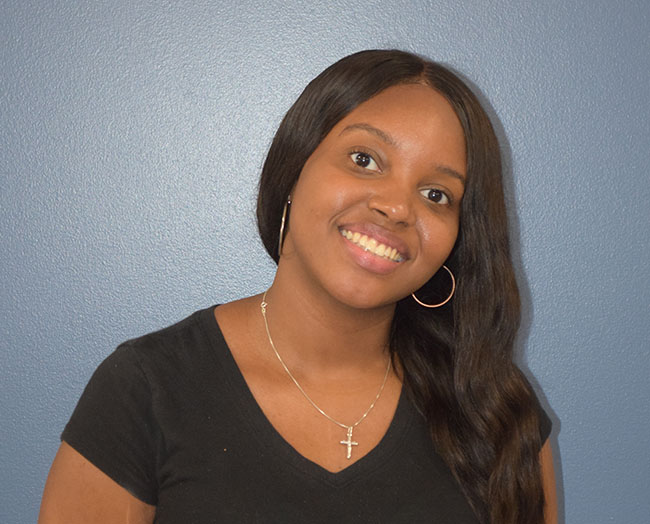 Savannah is a junior English major with a minor in Women's and Gender Studies.
In the Fall of 2017, Savannah started her experience with The Beacon as a staff writer. Due to her passion for journalistic writing and her previous experience as an editor for her high school's newspaper, Savannah became The Beacon opinion editor in the Fall of 2018.
Alongside her involvement with The Beacon, Savannah enjoys music, reading literature, and writing.
Savannah Pinnock, Opinion Editor
Apr 16, 2019

Is antiquity losing its relevancy in today's modern society?

(Story)

Apr 09, 2019

Introspection and the art of being self-reflective

(Story)

Apr 02, 2019

The brick and mortar experience: What will become of it?

(Story)

Mar 26, 2019

"Captain Marvel": Marvel's first female superhero

(Story)

Mar 19, 2019

College admissions fraud and its effects on all academics

(Story)

Feb 19, 2019

Dreams: Are they of the past or a reflection of the present?

(Story)

Feb 12, 2019

Transcendentalism: The art of smelling the roses

(Story)

Feb 05, 2019

What's in a name? Defining an Age: Information and technology

(Story)

Jan 29, 2019

How a change in your perspective can change your life

(Story)

Jan 29, 2019

Meet the Majors: Nursing

(Story)

Jan 22, 2019

Confronting toxic masculinity one shave at a time?

(Story)

Nov 13, 2018

Is Stoicism the key to one's happiness?

(Story)

Nov 13, 2018

Meet the Majors: Computer Science

(Story)

Nov 06, 2018

What is more essential: intelligence or education?

(Story)

Oct 30, 2018

Cultural appropriation and Halloween costumes

(Story)

Oct 23, 2018

Do new media pose a threat to communication?

(Story)

Oct 23, 2018

Are the past and present ideological concepts?

(Story)

Sep 25, 2018

The desensitization of Millennials and Gen Z

(Story)

Sep 18, 2018

Is feminism a benefit or a detriment to society?

(Story)

Sep 18, 2018

Movie Review: To All The Boys I've Loved Before

(Media)

Sep 11, 2018

Is society becoming more spiritual and less religious?

(Story)

Sep 11, 2018

"Sweetener": A sweet addition to Ariana Grande's repertoire

(Story)

Sep 11, 2018

Meet the Majors: English

(Story)

Sep 06, 2018

National Juvenile Arthritis Awareness Month

(Story)

Sep 06, 2018

Are extracurricular activities a college necessity?

(Story)

Apr 13, 2018

Should everyone learn another language?

(Story)

Apr 09, 2018

Can you be good without believing in God?

(Story)

Mar 12, 2018

How necessary is a college education?

(Story)

Feb 19, 2018

What is the best way to handle the end of a friendship?

(Story)

Feb 12, 2018

Has cheating been getting worse than it has before?

(Story)

Jan 29, 2018

The Top Four Things to do During a Snow Day

(Story)

Oct 09, 2017

Domestic​ ​violence:​ ​a serious issue that takes many forms

(Story)

Oct 03, 2017

Online​ ​classes begin to make traditional classrooms obsolete

(Story)

Sep 25, 2017

Profile of a new professor: Dr. Nicole Ryerson, psychology

(Story)

Sep 25, 2017

Top​ ​five ​tips​ ​on how to ​survive​​ ​each college semester

(Story)