FH: Resilience proves strong with major coaching changes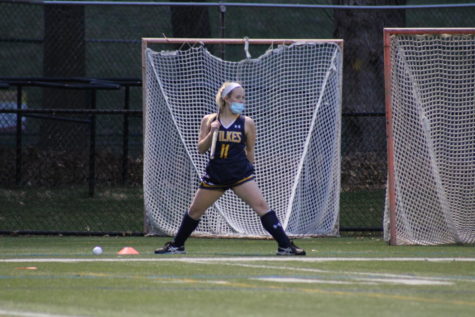 The field hockey team has set out to hire a new coaching staff after head coach Katherine Bowie stepped down from her position. Rumors have been circulating around the idea that Wilkes has already hired a new head coach, but the person's name has not been made known. 
Bowie coached the field hockey team for one season before accepting the Associate Athletic Director and Field Hockey Program Director position at St. Andrew's Episcopal School in Austin, Texas. 
The team has seen a lot of changes over the past two years, one of them being a condensed exhibition season in the spring where the players were only able to compete twice. 
The Colonels have been going through summer workouts by strength and conditioning coach Keith Klahold and hope to begin summer field hockey training. Their pre-season is set to begin in mid-August and games will commence on Sept. 4. 
"I am excited to get back onto the field to play a full season," said sophomore Jordan Pugh.  "I am excited to continue to grow friendships with my teammates."
Despite all of the changes, seniors Morghan Murphy and Lauren Shiplett have been two steady faces for the Colonels, and will continue to adapt to the changing circumstances. 
"I am really excited to have the season go back to normal and to see how far the team has come since we last played two years ago," said Shiplett.  "With the new coach and our incoming talent, I can not wait to see the team grow together and hopefully win the MAC." 
Over the summer both Murphy and Shiplett were able to participate in an overseas field hockey tournament in Italy in preparation for the Fall 21 season. 
"We ventured to 11 different cities in 11 days, along with playing field hockey," said Murphy.  "This trip was no break from my summer training for this upcoming senior fall season.  Playing the sport I love in another country was definitely an experience of a lifetime."  
Murphy and Shiplett are not the only players who have found ways to compete and train more efficiently over the summer.
"One of the local high schools invited our team to play alongside other local collegiate teams," said junior Maura Hensel. "This gave us the chance to continue our team led training over the summer."
Wilkes is excited to compete in the fall as their previous season was cut extremely short due to COVID-19 restrictions. The team was scheduled to compete in four exhibition games, but due to COVID-19, was only able to play in two.  
"I am very excited for this upcoming fall season as I enter my last year as a senior," said Murphy.  "We have a great group of incoming first years along with returners who I believe can really work together to go far into this year's competition and do great things." 
As of July 30, the NCAA has allowed sports to return to normal with full capacity. However, the NCAA continues to closely monitor COVID-19 and is taking proactive measures to mitigate the impact of the virus. When it comes to decision-making, their commitment is: protect the health and safety of college athletes.