Riley brings family coaching legacy to Wilkes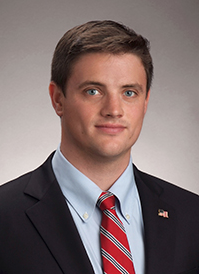 The tedious process of finding and hiring a head coach who would be skillful enough, as well as demonstrate the ability to start and build a new athletic program at Wilkes was not easy.
The Wilkes Athletic department had their hands full with this important decision. One man who made their job easier was Brett Riley.
Born in the suburbs of Boston, Mass. in 1991, Riley grew up with a hockey stick in his hand. His father and grandfather together built a family legacy in the name of hockey. Now,
Wilkes has the pleasure of having the son and grandson of these well-known hockey coaches continue on their hockey legacy at Wilkes.
Riley was eventually offered the job as the men's ice hockey coach due to his successful playing and previous coaching career at Albany, coupled with his family history in hockey. He has since been welcomed into the Wilkes community with open arms.
He brings to the table a passionate display of building a hockey team at Wilkes, as well as for the game of hockey and has demonstrated this through his recruiting ability.
Riley has put together the best recruiting class across both Division II and Division III men's ice hockey, according to NeutralZone, which is a hockey website dedicated to in-depth amateur scouting, coverage and rankings.
The long process of recruiting players to come to play for a university that has never had an ice hockey team before proved to be an arduous task. For Riley, it was a lot of traveling and finding the right players.
"Finding guys with hockey-sense and guys who can really think about the game was one of the keys to finding the right type of hockey players we look to have here," Riley said.
When looking for this type of player, Riley came across Taylor Bommarito and Michael Gurska.
"Coach Riley was a big factor as to why I decided to come here," Gurska said. "The dedication he already has with this program is great."
Riley spent fifteen months searching around North America from Florida to West Canada to find these players. Riley's recruiting tactics were successful, as he brought in a total of 31 hockey players, most of which have experience from junior league hockey.
Recruiting is a large part of building a Colonels hockey team for this season as well as for the future of the program and building Riley's credibility.
Not only do Riley's recruiting capabilities help mold his reputation, but his family background in the hockey world have helped shape him into the coach he is today.
Riley becomes a third generation hockey coach at age 27, following in the footsteps of his father and grandfather, who both had very successful coaching tenures in their career.
The legacy began in 1920, with John "Jack" Riley. Jack began playing hockey at a young age in prep school and later attending Dartmouth College where he continued his hockey playing career. Jack eventually made his way onto the 1948 U.S. Olympic team, which was disqualified due to a controversy between two U.S. teams being sent to that year's Olympic games.
This did not slow down Riley as he became the head coach of the Army West Point men's ice hockey team in 1950 and continued to coach the team until 1986.
Jack is most well-known for being the head coach of the 1960 U.S. Olympic team at Squaw Valley.
The honor of being an Olympic coach was a great opportunity for Jack. He coached the team to the finals at Squaw Valley, where they defeated Canada to win the gold medal.
"Miracle on Ice" was the name given the 1980 U.S. Olympic ice hockey team, but the 1960 Olympic team was the first ever U.S. team to win a gold medal.
This 1960 team was led by none other than Jack Riley.
Jack's success did not stop there, as he returned to Army West Point to continue coaching the Cadet's. He coached the team to three straight quarterfinals, with winning records and a lot of hockey talent.
Jack continued coaching the Cadets until 1986. The job was taken by an up-and-coming hockey coach, his own son Rob Riley.
Rob continued the Riley legacy at Army West Point, from 1986 to 2004. Rob, much like his father, grew up in the rink, playing for the Boston College hockey team.
Much of Rob's success as a coach for the Cadet's came beginning in 2000, as he led the team several years in a row to the Metro Atlantic Athletic Conference.
Rob ended his coaching career at Army in 2004 and was replaced by his brother Brian Riley, who is the third consistent Riley to coach at Army West Point.
Brian had and continues to have success much like the Riley's before him at Army West Point.
Now, Brett Riley is starting a new chapter here at Wilkes and is heavily anticipated to live up to his father and grandfather who have established a well-known identity and history in hockey.
Although this sounds like a lot to live up to, Riley believes in the advice that his father and grandfather have given him.
"They taught me to be myself and do what I think is right when coaching," Riley said.
Riley looks to use this advice during his time here at Wilkes and his coaching career to build on the Riley legacy in hockey.