WTEN: Lady Colonels win 10 of 11 MAC individual championships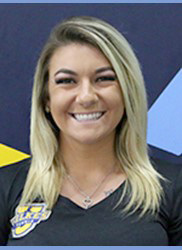 Wilkes women's tennis competed in the Middle Atlantic Conference (MAC) Individual Championships, hosted at both Kirby Park and Wilkes University. The Lady Colonels took 10 of 11 titles during the weekend of Oct. 13-14.
They swept the doubles category, but fell short in just one singles title, taking six out of seven possible championships there.
Jordan Vasarkovy, at No. 1 singles, locked in her third consecutive title, rising above Albright's Mara Trifoi in the semi-finals, and conquering her match up against King's Emily Fernandez in the finals.
Francesca Varela-Seri followed Vasarkovy, taking the No. 2 spot, competing against Desales' Amber Achenbach in the semi-finals, where Varela-Seri swept past Achenbach. She earned her second consecutive title when she defeated Hannah Summerson of Lycoming in the finals.
Dana Saliyev triumphed over Lycoming's Kaitlin Hallabuk in her semi-final matchup and Misericordia's Linsey Parks in the finals, securing the No. 3 spot. Her accomplishments snagged herself a second straight title.
At No. 4, Laura Zielinski also earned a title at the tournament by breezing past Messiah's Emily Wichert in the semi-finals, and coming up successful in the finals against Allyson Wolf of FDU-Florham.
Dagney Markle at No. 6, earned her first title as a Colonel at the tournament, coming out on top in the title match. Markle advanced in the semi-finals before beating FDU-Florham's Mia Capozzoli in the finals.
Sarah Malone was the second rookie to achieve her first title. At No. 7 singles, she won over Stevenson's Rebecca Connelly in the semi-finals, setting her up against DeSales' Gabby Serratore in the finals where she came out with the crown.
Brittany Stanton took second place at No. 5 singles. Stanton fell short to Messiah's Amanda Adamsin the finals.
Women's tennis had all four doubles teams demolish their opponents, and earn their titles in the MAC tournament.
Vasarkovy/Saliyev, at No. 1 doubles, earned an 8-1 victory in the finals, grasping their first title as a pair.
At No. 2, Zielinski/Varela-Seri conquered with an 8-3 win against FDU-Florham. With this win, the duo clutched their first crown together as well.
Markle/Stanton, at No. 3 doubles, claim the crown with an 8-3 win in the finals.
At No. 4 Doubles, Nicole Gaetani and Courtney McCowan attributed to the doubles' success, earning their title with an 8-3 victory.
Wilkes women's tennis will return to action in March, when they travel to Hilton Head Island, SC during their annual spring break trip. After that, they'll begin their spring schedule.