Multi-sport athletes face numerous challenges on campus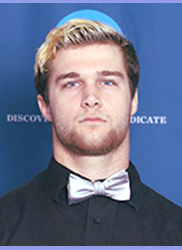 With no form of incentive to participate in athletics, it can be argued that NCAA Division III athletes are the most committed across all divisions. This could be said even more so for multi-sport athletes.
Student athletes face many struggles, from time management and balancing athletics with academics, to dealing with injuries.  The group of multi-sport athletes here at Wilkes University all face those same things, but for multiple seasons.  With less breaks, these students are forced to adjust their lives in order to stay committed to the sports they love.
The amount of time a student athlete has to commit to one sport, let alone two, is immense and can seriously impact time management. It can really take away from free time that can be used on academics.
"I actually like playing multiple sports because it keeps me on track with my time management," said Jacob Kadis, junior on the men's lacrosse and football team. "Having limited free time requires me to really dial into my academics, and hasn't affected my studies."
Some multi-sport student athletes prefer that they are kept busy throughout the academic year by sports. It keeps them on task and allows them to focus on what is important, as opposed to wasting time.
"I personally like being kept busy because it helps me get my work done," said Amber Grohowski, sophomore field hockey and basketball player. "I would normally procrastinate and wait last minute to do everything, but by playing the two sports I have to schedule everything around practices, meetings, and games, so it has to get done in the time slots I make for schoolwork."
Student athletes who compete on multiple sports teams also battle with the lack of an off season. After one athletic season ends, it's right into the next. There's no time to recover or recuperate.
If an athlete gets banged up during football season in the fall, it is right back to the grind when winter rolls around for wrestling or basketball. Less time to recover from injuries can keep that athlete from getting back to one hundred percent health.
"Going right from football to basketball and then spring football after is tough, especially with any lingering injuries, as you don't have time off to recover." said Casey Evans, senior on the Wilkes football and basketball teams.
The vast majority of student athletes at Wilkes only play one sport. The few that are multi-sport athletes get the same recognition as their teammate who is only a member of one team.
"I don't think that I should get more recognition. I could care less if everyone knew that I was a multi-sport athlete or not.  I'm just being myself," said fifth year student Jake Brook, a three year multi-sport athlete for the football and wrestling teams at Wilkes.
These student athletes chose to play multiple sports while both accepting and disregarding the fact that they get just as much respect and acknowledgement as the other athletes on their teams. To them, they are just participating in the sports they love.