(The Halloween version of) Getting to know… Madison Scarfaro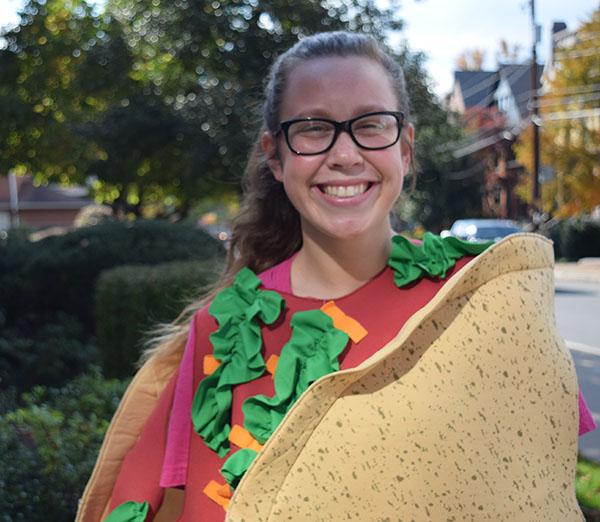 Name: Madison Scarfaro
Major: Political Science / Criminology
Year: Junior
Position: Hitter
Q: What was your favorite Halloween and why?
A: My favorite Halloween's were all when I was younger because I got to trick-or-treat and get a lot of candy.
Q: Favorite Candy?
A: Reese's and Pretzel M&M's
Q: Name the scariest costume you've ever seen, and tell why?
A: The scariest costume I've ever seen was a clown because there was barely anyone outside and they were just wandering the streets with a scary mask on so we ran away.
Q: What was your driving force to attend Wilkes University?
A: When I found out that Grace Boyle was coming here and playing volleyball, I wanted to come here and play volleyball.
Q: If you could change one thing about Wilkes' campus, what would it be?
A: If I would change one thing about Wilkes' campus it would be to add fun activities to the Greenway that are there every day.
Q: What would you say is your proudest moment as a college athlete?
A: My proudest moment as a college athlete was getting into MAC playoffs my freshmen year.
Q: What does "Be Colonel" mean to you?
A: "Be Colonel" means to do the best you can in everything that you do and never give up.
Q: Do you have a message to any of your fans?
A: Feel free to look at my favorite candy question and get me both kinds!!!
Q: What are your hobbies aside from volleyball and pastimes?
A: Hanging out with Grace and Ally are my favorite hobbies. I also enjoy hanging out with my friends Mike Paskas and Garrett Armstrong.
Q: Lastly, what does it mean to you to be a Wilkes University Colonel?
A: Being a Wilkes University Colonel means a lot to me because of how great this school is. It means that I am devoted to my school, as well as the academics and athletics that come with going here.