Brook and Armstrong: Teammates on the gridiron since the age of 5
Bonds between teammates in the collegiate athletic space cannot be compared to any ordinary friendship. Authentic bonds among teammates are ones which respect one another enough to support, challenge and inspire each other.
Who we spend time our time with, shapes who we are, the friendships we forge are often a reflection of our character.
Senior Tailback Jake Brook and Junior Tight End Garrett Armstrong, both graduates of Kittatinny Regional High School, share the same combative attitude as their competitiveness bred their improvement as ball players.
"Never wanting to let each other win in anything has been a part of our friendship since the day we met and to this day we are still very competitive in everything we do," Armstrong said.
Although some may argue this dog-eat-dog approach is unhealthy, the two New Jersey natives wouldn't have it any other way. Brook and Armstrong's aggressive nature on the field allows them to enter their training as though they were competing against a lifelong rival.
"I will do whatever it takes to not let him beat me in anything and he will the same to me," Brook said.
This philosophy has proven tried and true as it has helped them reach new heights in their athletic careers. Both are currently two of the top three in scoring touchdowns for the Colonels.
Developing their competitive spirits at a young age, Brook and Armstrong first stepped foot on the gridiron together when they were both just 5 years old, competing for Kittatinny's Midget Football League. They carried their desire to compete onto the wrestling mats to assist in fulfilling the winning tradition of John Gill's powerhouse program.
Brook and Armstrong's families have been building camaraderie amongst one another ever since the two Wilkes football players were born. Their older sisters' cultivated a close relationship as they grew older as well. Through their upbringing, their parents purposefully served their boys with the love and values needed to instill the confidence in them to play their hearts out at the next level.
Now, Brook and Armstrong's families look forward to football season to jointly tailgate and take joy in witnessing their sons perform in their prime.
With nearly a lifetime of being teammates, it is safe to say the two weapons of the Colonels' offense share the same vision. The two attribute their success to one another as their objective views allows them to critique each other's game constructively.
"We know each other very well maybe a little too well, we both know how to get under each other's skin very easily. We have learned how to play with each other over the years and how to get the most out of each other," Armstrong said.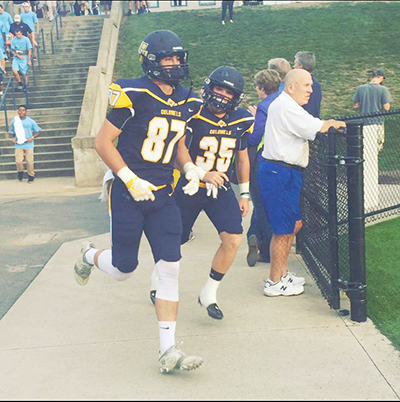 True friendship lies in understanding one another. Brook and Armstrong's strong sense of solidarity has helped them flourish on the field.
"One of the things that I enjoy about playing ball with Garrett is that we understand each other. We aren't afraid to criticize each other," Brook said.
The exhaustion resulting from schoolwork and athletics can be a strenuous process to endure. Brook and Armstrong draw strength from each other knowing that they were together when they went through their toughest workouts, practices, games and matches.
Few choices are more important than deciding who you will be around. Given their close relationship, Brook, an academic year ahead of Armstrong, seems as if he may have had an effect on Armstrong's college decision.
"I would say Jake did have an influence on my decision coming to Wilkes. It was interesting for me to get the chance to play with someone that I have played with my whole life. We are doing something we love and it makes it that much better to do it with my best friend," Armstrong said.
They've leaned on each other when facing hardships and were present during each other's growth as athletes, brothers and sons. Brook and Armstrong will continue to execute their competitive personas to thrive off each other and enjoy the process along the way.
"It's a pretty cool thing to think about because when it's all over we can both look back and share some of the same memories. It will be a total of about 18 years of playing football together. I've had a lot of fun playing together and we still have one more year," Brook said.