Athletes to watch
Colonel athletes take to the field for another season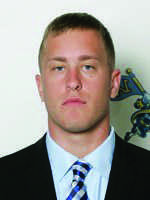 Meet one of the starting quarterback's for the Wilkes University football team, Senior Ryan Dailey. Ryan is from Easton, Pennsylvania and was quarterback for Wilson Area High School. As a senior, Ryan is pursuing a degree in accounting.
Ryan has been a quarterback since he started playing football. He had the opportunity to play for Wilkes and saw it as chance to get one on one coaching and playing experience. His freshman season was successful for him due to the fact that he was able to get playing time his first season as a college football player. Since he has been able to gain a large amount of experience starting early on, Ryan has built confidence on the field.
These past few seasons the Wilkes Colonels have been trying to find their groove again, but this hasn't made Ryan lose sight of why he's there. As he approaches his last year as a Wilkes football player, he expects a lot of competition from the team and he is hopeful for a better year than the last couple. All Ryan wants out of this season is to win some more games, with the guys that have become family ove r the past four years, and enjoy playing the games he loves so much.
This Colonel quarterback is ready for another season, this one meaning more than ever before. Go Colonel's!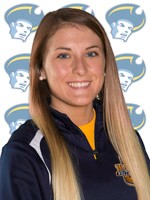 Bump, Set, Spike! Julie Murphy is a freshman at Wilkes University and will be of the newest members of the volleyball team come this fall. Julie is from Mountain Top, Pennsylvania where she went to Crestwood High School.
When Julie first came to Wilkes, she instantly felt a sense of unity and knew she would like it here. Not only did the students, team and staff make her feel welcomed but the Sidhu School of Business was exactly the right fit for her and what she was looking for out of a business program.
Originally a soccer player for over 12 years, Julie has now been playing volleyball for 7 years and has found that this is the sport for her. She currently plays libero or defensive specialist.  This position gives her a good chance of a lot of playing time as well as making her a key player on the court. As Julie embarks on her college career she knows that there are challenges ahead but she also knows that it will be worth it.
"I'm excited to continue playing volleyball in general and make new friends on the team."
Playing at the college level is not something everyone gets to experience, and starting your freshman season can be nerve-wracking but Julie was mentioned as a possible stand out already and has four years to enjoy her love of the game.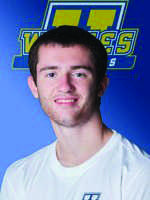 Meet sophomore goalkeeper from the Wilkes University Men's Soccer team, Tim Gallagher! Tim is from Easton, Pennsylvania and is a graduate of Notre Dame Green Pond High School. He is in his sophomore year of college and pursuing an undergraduate degree in electrical engineering.
Going into his second season at Wilkes, Tim has high hopes set for himself and his team. "I hope this season we can win a couple more games and hopefully make a push for playoffs."
Soccer has become a huge part of Tim's life as he grew up around it, but it was not until he started playing goalkeeper that he really found his passion for the sport.
As a freshman starter this past season, Tim was named defensive player of the week. He was named Honorable Mention to the MAC All-Conference Team.
Tim is only a sophomore and has three more seasons to compete, improve and lead. Tim hopes that he and the Colonels will make it to the MAC Conference Championship before he ends his soccer career with Wilkes University.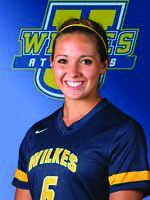 Junior, Captain Elena Denger of the Lady Colonel's soccer team is ready for another hard fought season of leading her team. Elena is from Nazareth, Pennsylvania where she graduated from Nazareth Area High School. She is a Pharmacy student at Wilkes University.
Soccer has been a part of Elena's life for 17 years now. Elena is a defender, playing the outside back position.  As a junior captain, Elena loves the competitiveness this team brings each day to the field. "I expect a highly competitive season like the last two, both in regards to other teams that we face, as well as competitive practices, since everyone on our team is so talented."
As she gets to the half-way point in her soccer career, here at Wilkes, Elena already holds accomplishments, both as an individual and as a part of the team. Her freshman year, the Lady Colonels made it to the ECACs and then made it to the MAC finals her sophomore year. As an individual, Elena was named to the MAC-Freedom All Conference Second team as the conclusion of her sophomore season.
Welcome back Jordan Lindley, junior on the cross country team! Jordan comes from Hunlock Creek, Pennsylvania, a graduate of Lake- Lehman High School.
Jordan has chosen to competitively run at this level due to the lack of pressure that higher Divisions place on their athletes. "I don't have to worry about losing an athletic scholarship if I do poorly or if I get hurt because I am not allowed to have on at this level."
Although Jordan enjoys the lower pressure environment of the D3 level, he still has high expectations out of himself and his team. Jordan expects his team to place higher at both the MAC and also at the Regional Meet and he is hoping to help his team make it there.
Originally only joining the cross country team to stay in shape during the off season of Lacrosse, Jordan has found a true passion in cross country. At the start of his running career, Jordan could not even finish a 5k. Now as a junior on the team, he has already set a school record for the men's 8K last fall and has placed higher than any other male in school history at MACs.
Jordan does not plan to stop there. He has high goals set for himself, being a leader for the team as he begins preparing for his junior season. Jordan hopes he and his team can place higher than ever before at MACs and the Regional meet.
"I am aiming to continue bettering myself in hopes that I can help the team reach those goals."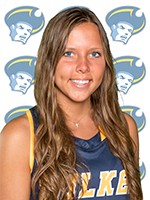 Be on the lookout for sophomore transfer, Megan Kane on the field hockey field this fall. Megan is a transfer from Slippery Rock where she first began her field hockey career. She is originally from, right across the bridge in Kingston, Pennsylvania, a graduate of Wyoming Valley West High School.
Megan decided Wilkes was the best place for her that would allow her to continue her education and field hockey career closer to home. Megan says she is "excited to start playing for Wilkes because I already have such a good connection with the team and I like this playing environment."
Megan has been playing field hockey for 8 years and currently plays the position of forward. She expects nothing but success this season from the team. Megan is most excited to get back on the field with the rest of the team and get back to working hard. She expects a successful season as her first year in the Blue and Gold. "I'm ready to prove how successful we are striving to be this year."
Megan is just grateful to continue to play the sport she loves with a whole new perspective of the game. She is expected to bring confidence and work ethic to the team. Welcome to the Colonel family, Megan!