Getting to know… Madison Scarfaro Sophomore Volleyball Player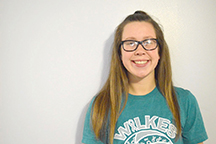 Purvit Patel & Elyse Guziewicz, Sports Writer; Copy Editor
February 22, 2016
Madison Scarfaro is a sophomore at Wilkes with a double major in political science and criminology and a minor in sociology.  She hails from Whitehall High School in Whitehall, Pa. 
Q: What was the driving force behind your decision to come to Wilkes?
A: I knew I wanted to go to a smaller school and I knew I wanted to play volleyball. When I visited Wilkes, met with my coach, and saw that they offered the areas of study I wanted to pursue, I just knew that it was the right choice for me.
Q: Do you have any post-graduation plans in terms of a career?
A: I have a few ideas of what I would like to do after graduation, but nothing set in stone yet. I would love to go to law school, so that's an idea. I also think it would be awesome to work for the FBI, so that's an idea I keep in mind too.
Q: What are your hopes for your next season as a Colonel?
A: I have really big hopes for our next season. Obviously, our goal as a team is to win a championship, and we would love to beat Eastern, who is our toughest opponent. Along with that, I just hope to have a fun and rewarding season while working hard and doing the best we can.
Q: When/Why did you first begin playing volleyball?
A: I first started playing volleyball in 7th grade, because that's when it was first offered to us as a school sport. My mom played when she was younger, so that influenced me a lot. I also knew I would enjoy it and it looked fun, so I figured I would try it out.
Q: Do you have other sports/interest/hobbies off of the field?
A: I used to play basketball and throw shot put, javelin, and discus in high school. I just really like playing sports in general. My other hobbies include hanging out in Towers 1000 with my roommates Grace Boyle and Kayla Granger, or spending quality time with Ally Paskas. I also enjoy spending time with my good friends Mike Paskas and Garrett Armstrong.
Q: Who would you say, is the most influential person in your life? Why?
A: The most influential person in my life is my mom because she has always pushed me to be the best I can be in all aspects of life and is always there for me whenever I need her.
Q: A quote you live your life by?
A: "Live like Spongebob:  Laugh out loud all day without any reason and annoy all the mean people with your happiness."
Q: What does "Be Colonel" mean to you?
A: "Be Colonel" means to be the person that you can be and always strive to meet your full potential whether it be in academics or another part of school, and always represent Wilkes University to the best of your ability.
Q:  If you could have dinner with a famous person from the past, who would it be?
A: I would want to have dinner with Abraham Lincoln.
Q: Does the volleyball team have anything they would like to inform the student body of?
A: Volleyball will be having a spring tournament on April 16. We are also beginning to start a lot more fundraising, so keep an eye out for future fundraisers that you may be able to get involved in and help us out.