Wilkes University softball: One team, one dream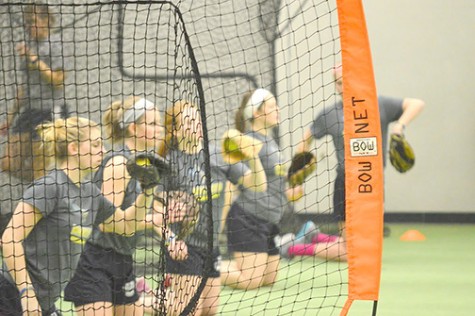 The 2015 season was one to forget for the Wilkes Softball team. The team finished the season with a record of 13-21, going 4-10 in the Freedom Conference.
"We were very disappointed with the way the season went; we expected a lot more out of ourselves,"  said junior Jenna Graziano.
The Lady Colonels started out red hot on the road during their annual trip to South Carolina for spring break. They went 4-3 and played very well, but something changed when they came back home from Virginia. The Lady Colonels struggled in the first two games after returning to Pa., dropping both the game against Lebanon Valley College and against Misericordia University. They lost both games by a total of two runs in the final innings.
The softball team captured its first home victory of the year in 2015 against the Del Val Aggies, but then proceeded to lose the next six games in the middle of the season.
"A lot of mistakes were made out on the diamond, we left a lot of errors out there that could have easily resulted in a few more wins for us during that losing streak," sophomore Grace Sanzalone  explained.
2016 looks to be a big year for new beginnings for Wilkes Softball: With the retirement of head Coach Frank Matthews and assistant head coach Phil Stortz the softball team looks forward to some new, younger faces.
Wilkes has hired Sarah Maulorico to be its new softball head coach. Maulorico then appointed Jenn Dalickas and Danielle Thacker to be her assistant coaches.
Maulorico also brought back coach Jan Mazza from the 2015 coaching staff. In addition to Mazza, Maulorico hired Alex Hoops, who played for Wilkes for 4 years. Hoops was named first team all Freedom Conference during her junior year and started all 38 games at first base.
"We expect to do a lot better than we did last year; we are a lot closer as a team and are more confident in ourselves because of it. I definitely think that we are in position to contend for the conference title," said sophomore Grace Sanzalone.
As the season nears, the Lady Colonels are working very hard to improve from last year's record and start the season off right.
"We have team goals that we set for ourselves every week that we do our best to fulfill. Maulorico expects a lot out of us, and we do our best to work as hard as we can because we know we can do big things in 2016," explained freshman Caitlyn Brown.
The team will take its annual trip to Myrtle Beach, South Carolina over spring break.  The first game is against Penn State Harrisburg on March 13, and the home opener is March 19 against Eastern University.