Getting to know… Peter Feno Junior Swimmer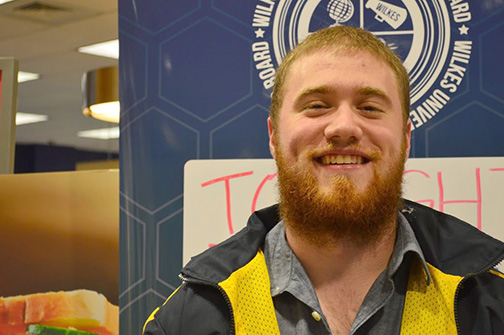 Peter Feno attends Wilkes University with double majoring in both accounting and communication studies. From Shickshinny, Pa., Feno swims for the Men's Swim Team at Wilkes.
Q: What was the driving force behind  your decision to come to Wilkes?
A: The driving force to come to Wilkes was the community. I came from a small town of 1,000 people, and here at Wilkes there still is that sense of family bonds you get from faculty, professors and students. It's big enough to meet new people but small enough to gain great friendships.
Q: Post-graduation plans in terms of a Career?
A: Change the world, baby! Land a job at a professional accounting firm, and help others relieve the stress of financial problems. For communications? I always wanted to be a DJ like Howard Stern.
Q: What are your hopes for your [current year] season as a Colonel?
A: Finishing the season by not drowning. In all seriousness, improve on my times, and have the integrity of what it means to "Be Colonel". Swim fast, pass class as a student athlete.
Q: When/Why did you first begin swimming?
A: I started playing this sport for the first time in my life two months ago. I wanted to be part of a team and give it my all. If I do that, I know I could succeed in and outside of the water.
Q: If you had to choose one thing about Wilkes' Swimming Program that you could improve, what would it be?
A: Taking pride in our sports teams as students, athletes and coaches could be the most important. We aren't as big as PSU, but to have a student section at sports events would be awesome to see.
Q: Do you have other sports/interest/hobbies off of the field?
A: Outside of the water I perform in WUT (Wilkes University Theatre Ensemble), play basketball with friends, and perform speeches on the Wilkes Speech and Debate team.
Q: Who would you say, is the most influential person in your life?
A: People every day will influence you from right and wrong. It is you who controls your free will.
Q: A quote you live your life by?
A: "Your future hasn't been written yet; no one's has. The future is whatever you make, so make it a good one."
-Doc Brown
Q: What does "Be Colonel" mean to you?
A: Being Colonel means stepping up and being the best human being you can be. Give a little more and take less. Work harder to achieve your goals, do the small things, which in turn, turn into big things. Don't take anything for granted and never lose your cool.   
Q:  If you could have dinner with a famous person from the past, who would it be?
A: It would have to be Frank Sinatra. Learning about the past, eating fine steak, sipping on some Jack Daniels, picking up some chicks, and playing some tunes would have to be a perfect night.