Getting to know… Cassie Morey Senior Swimmer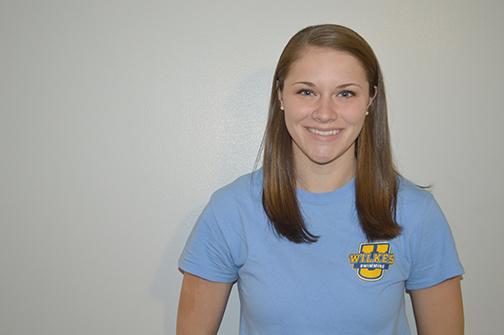 Cassie Morey majors in pharmacy at Wilkes University. From Chemung, NY., Morey is a butterfly/sprinter for the Women's swim team at Wilkes.
Q: What was the driving force behind your decision to come to Wilkes?
A: I was looking for a well-established pharmacy program that wasn't too far from home. When I visited Wilkes, I really liked the atmosphere and small campus, and I knew it was the right school for me.
Q: What are your post-graduation plans in terms of a career?
A: There are so many career options in pharmacy and I still have a few years to think about it, but as of now I see myself being a clinical pharmacist in a hospital or working with children as a pediatric pharmacist.
Q: What are your hopes for your senior season as a Colonel?
A: My personal goals for this season are to break my 100 yard and 50 yard butterfly records and have personal bests in my 100 yard and 50 yard freestyle. My goals for the Women's team are to be in the top eight this year at MACs and make the podium for all of our relays.
Q: When/Why did you first begin swimming?
A: I've always loved swimming but I didn't join a team until my freshman year of high school. I had a lot of friends who were on the team and I thought it might be something I would be good at and I ended up really loving it.
Q: If you had to choose one thing about Wilkes' Swimming Program that you could improve, what would it be?
A: I would love to see an aquatics center built for the swim team. That may be unrealistic at this point but hopefully sometime in the future Wilkes will have their own home pool.
Q: Do you have other sports/interest/hobbies off of the field?
A: I played softball in high school, but I enjoy watching and playing all sports. I also like to do a lot of outdoor activities back home like golfing, four wheeling and fishing.
Q: Who would you say is the most influential person in your life?
A: Definitely my parents. They always support me in everything I do and have always been there for me. They are both very hardworking and have given me so many amazing opportunities in life and I am so thankful for them.
Q: A quote you live your life by?
A: "Do something today that your future self will thank you for."
Q: What does "Be Colonel" mean to you?
A: To me it means working hard in and out of the pool. Being Colonel is giving 100 percent in the classroom, at practice and at meets. It is about leading by example and building a team around comradery and sportsmanship.
Q: If you could have dinner with a famous person from the past, who would it be?
A: I would choose Missy Franklin. She isn't from the past, but she is one of my biggest idols. She is only 20 years old and is a four-time Olympic gold medalist in swimming.