Senior Day sparks emotion for students at last home game
The seniors played their final home game on Halloween against the Stevenson Mustangs. The game also marked Senior Day.
The stands were filled with family and firends for the event, and T-shirts were given to those who came in costume. The shirts were themed both Wilkes football and Halloween.
The Colonels lost 31-14; they now head into their last two away games versus Misericordia and King's.
The seniors spent some to reflect on their football careers. Kyle Belle has played football for eight years, and these past four have been especially memorable.
"I had the opportunity to meet some great people and another chance in continuing my football career," Belle said.
Belle is a defensive back for the team. He knows he will be sad when training camp starts next year and he will not be there.
His most memorable experience is when he played Stevenson two years ago. He recovered an onside kick at the end of the game, which led the team to come back and win.
Michael Paskas is another defensive back. He believes football is not something he takes for granted. He also claims that he was blessed with the opportunity that most individuals dream of.
"I met some of my best friends these past four years. I have created relationships with my teammates and coaches that will last a lifetime," Paskas said. "Football had a major impact on my career at Wilkes University. It developed me into a mature young man and taught me adversity is something that can be overcome with effort and determination."
Robert Moyer, a defensive lineman, said one of the most difficut things he has experienced was not making the team his freshman year. Instead, he was the team manager. Once he tried out the following year, he earned his spot and has become a better person because of it.
"Football is as important to me as to breathe air. I have put my heart and soul into the sport that I love," Moyer said. He will be sad when it is all over, however he is eager to take the lessons and skills he has learned in school, then apply them to his job.
Linebacker Anthony Trotta has played at Wilkes for the past two years, and has made friends and memories that will last forever.
"It's been an honor going out every Saturday to play the game I love with some of my best friends. It is also an honor to be able to represent Wilkes University, my family and hometown of Old Forge," Trotta said.
Tyheed Jackson is a defensive back, and claims that there is nothing that can explain how important football is to him. He dreamed about playing in college ever since he started playing at the Pee Wee level.
"My most memorable moment was when I started for the first time against Lycoming last year on Homecoming," Jackson said.
Jackson believes that being a part of the football team shows that you have the desire, dedication and determination to be the best you can be.
"One thing I am going to miss the most is strapping up those pads, blocking everything out, and playing the game with my brothers! When it is finally over, I can say I did it!" Jackson said.
Head Coach Trey Brown is going to miss the seniors. Brown has coached for a while, and knows that after you spend so much time with your players, it is hard to let them go.
There are some great seniors that will be leaving this year, but there are a lot of players on the team that will step it up in the following years. He knows some players are new to positions and they have plenty of room for improvement. He has only been in the program for the past two years and has seen his players transform since last year. They speak the same language, and there is visible growth.
"The best experience I had with these seniors was in our win over Delaware Valley. The seniors have never beaten them, and it was the first night game. In the fashion in which we did it was remarkable. We had to drive down the field on offense to score, and stopped the team from scoring on defense for four plays near the end-zone. There was so much satisfaction for this program, and in the eyes of the players was just utter joy," Brown said.
It's an honor for Brown to teach his players how to grow as individuals during their time in college. He knows that he is evaluated by wins and losses, but he genuinely feels good when the coaching staff has taught their players how to be better people overall through overcoming adversities.
He enjoyed seeing his players evolve into his second year, and is melancholy that his players will be leaving.
The game against Stevenson was the Colonels last home game of the season. The Colonels are playing away for their last two games, but will be at relatively local places. On Nov. 7, the Colonels will be going to Misericordia in Dallas, and on Nov. 14, the Colonels will be going to King's in Wilkes Barre.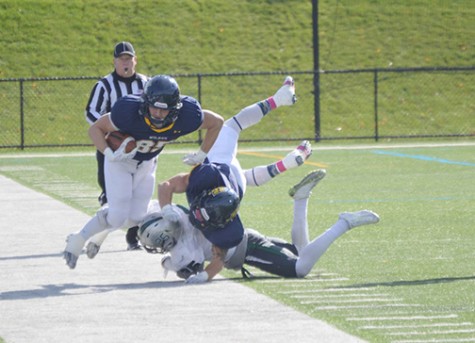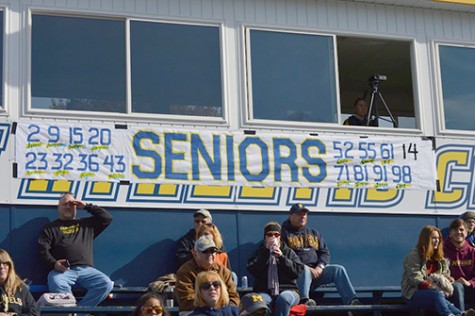 Seniors of Wilkes football were honored at
last home game leaving their mark on both the field and Wilkes Athletics.