Thank You, Next! one of the best diss tracks yet?
Breakups are a hard thing to go through. On one hand you're glad you're not with someone who no longer wants to be with you, but on the other memories of the past keep taking over your thoughts. Everyone deals with it differently. Some people are upset for months, some for days and occasionally some stew in it for a few hours before cracking open a bottle of wine and making a decision.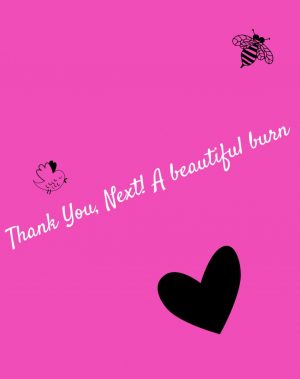 Whatever the case is, breakups are difficult to handle. Now imagine doing it under public scrutiny. That's precisely what Ariana Grande had to suffer through. Ariana was in a short-lived fast relationship with SNL star Pete Davidson. She got engaged a short while after the relationship started. For this, she received immense scrutiny from the media. Not only did she have to break off a relationship that people said she moved too fast with, but she had to call off an engagement.
In light of recent events with her ex, Mac Miller and his suspected suicide, Ariana not only had to cope with losing someone she loved for nearly two years, but also handle the backlash from millions of fans for his death.
Ariana tackled her frustrations through the best way she knows: song. Ariana's song thank u, next is a breakup anthem. Having a sassy and quirky title, you would expect the song to be angry and sarcastic. Instead, the song is, "no drags…. no shade….. jus love, gratitude, acceptance, honesty, forgiveness … and growth."
With its use of lo-fi hip hop beats as a background the mood of the song is clearly conveyed. The song is a relaxed and genuine thanks to each of Ariana past loves. There is no nasty remarks or vicious attacks at any of her exes. It is often forgotten that at some point a person did love their ex. This song brings to light that even if you no longer love the person, they aren't a monster. If you once saw good in them, the good still resides. Combined with the relaxed music and her powerful voice layered over itself, Ariana lets listeners enjoy a wholesome song.
Ariana channels the power of moving on in her song. She talks about each of her exes and how she is grateful in some way for all of them. She cites them as teaching her love, patience and pain.
Ariana even teases that she's gotten together with someone else in the song. This is a perfect leeway into the song's other theme. Loving yourself is always more important than being loved by someone else. Having confidence in one's own self-image carries a longer way than the love and support of others may.
Just the same as one standing up for themselves, loving oneself allows for others to do the same. Needing another person's love shows dependency, one thing that Ariana has proudly displayed she does not need.
Ariana tries to convey that one should forgive themselves for things they feel they've done wrong and not let other people dictate how they feel. Her feelings and experience with Pete was trying and fast. Her feelings for Sean were heavily criticized. When she ended a two year long relationship with Malcolm, who is widely known as Mac, people felt outraged. However, Ariana embraces that she doesn't have to apologize to anyone for how she feels. She does what many people don't have the courage or strength to do; she becomes the curator of her own feelings.
Much of this song's lessons can be applied to everyday life as well. The hope is that with Ariana Grande's smash hit there will be a wave of people learning lessons from their past and learning to be kind, forgiving and full of love.