October: Breast Cancer Awareness Month is upon us
The month of October is significant for a great deal of reasons. Within the United States it marks the start of Halloween festivities and brings in the autumn season. It is aslo significant because it marks Breast Cancer Awareness Month.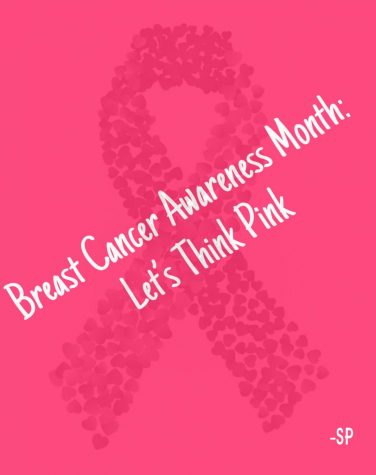 Every October, awareness based initiatives such as the Susan G. Komen Foundation pay extra attention to this sometimes life-threatening disease.
Breast cancer is a malignancy that affects millionsof people around the world. It is important to be aware of this disease so you can inform others about it. It can allow an individual who may not be aware that they have this disease to get treatment.
In simply understanding breast cancer, you have the power to potentially save someone's life. Being aware of breast cancer may seem unnecessary or redundant as it's a widely known disease.
However, it is necessary to be aware of it because it is an issue that affects many people. Unfortunately, it may continue to do so until we can find a cure.
It is important to continue to spread awareness to help save lives. So with all of this in mind, what is breast cancer? According to the Susan G. Komen Foundation, "breast cancer occurs when cells in the breast divide and grow without their normal control". 
According to breastcancer.org, there are many different forms of breast cancer. These forms consist of ductal carcinoma in situ (DCIS), invasive ductal carcinoma (IDC), tubular carcinoma of the breast,  IDC Type: medullary carcinoma of the breast,.
There is also IDC Type: mucinous carcinoma of the breast,  IDC Type: papillary carcinoma of the breast,  IDC Type: cribriform carcinoma of the breast, invasive lobular carcinoma (ILC), inflammatory breast cancer, lobular carcinoma in situ (LCIS), male breast cancer, molecular subtypes of breast cancer, paget's disease of the nipple, phyllodes tumors of the breast and metastatic breast cancer.
The most common form of breast cancer is IDC. IDC is sometimes known as "infiltrating ductal carcinoma". About 80 percent of breast cancer cases are IDC. It is then clear to see that breast cancer is a heinous disease that manifests itself in a wide range of forms.
Also, breast cancer is more likely to be to be found within women between the ages of 55 to 64. However, it is possible for males to get breast cancer as well.
It is estimated in 2018 that roughly 300,000 new cases of invasive breast cancer have been diagnosed in women and about three thousand invasive cases have been found in men. Breast cancer is the second leading cause of death in women within the United States.
As a student body, we are connected to individuals who sustain this disease in one way or another, it's important to know as much as one can about this disease.
Cancer affects way too many people. Cancer itself is just horrible. Cancer has affected a fair amount of people even within my family. Some were fortunate enough to win their battle with cancer, and others, not so much.
My grandmother was diagnosed with breast cancer years ago. She fought and won her battle. Unfortunately, toward the end of last year, she was diagnosed with glioblastoma, or brain cancer. I lost my best friend, my grandmother, to cancer in March.
Cancer takes away so many lives and affects so many families. That is why it is important to go for checkups regularly and be aware of the signs and symptoms. If you catch it early enough, there's a better chance of getting the treatment you need to beat it.
Editor's Note: Clarification was added to the story regarding the loss of the writer's grandmother. Her grandmother was her best friend.