Jake Wood lecture addresses conquering chaos
Jake Wood, co-founder and executive chairman of Team Rubicon and CEO of Groundswell, returned on Oct. 11 to campus as the feature guest speaker of The Allan P. Kirby Center Lecture in Free Enterprise and Entrepreneurship. His lecture, "Conquering Chaos: Building Teams to Make Your Passion a Reality," took place at the Dorothy Dickson Darte Center for the Performing Arts.
The lecture began with a welcome message from senior communication studies major and Kirby Scholar of communications, Lindsey Scorey, which was then followed by an introduction from Dr. Greg Cant, Wilkes University President.
President Cant revealed Wood is an award-winning entrepreneur, author of books, such as "Once A Warrior." Also, Wood is recognized for being an expert on topics such as leadership, organizational culture and crisis management.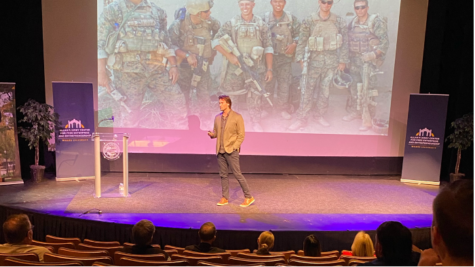 "Wood recently founded Groundswell, a revolutionary venture-backed technology company that is looking to disrupt philanthropy and employee compensation," Cant said.
Not forgetting the fact that Wood is the executive chairman of Team Rubicon, a veteran-led humanitarian organization serving global communities before, during and after disasters and crises, as well as the most innovative and knowledgeable disaster response organization.
After the brief introduction, Wood began with a thank you to the Kirby Center for inviting him back to speak and he gave a small recap on the topics he covered in his last lecture on campus. He continued with a preview about what he was going to talk about this time, which was how leaders and organizations can thrive through chaos.
"The world around us is full of chaos, now, I come with the mindset that in the mix of that chaos is an opportunity," said Wood. "The thing about chaos is that it is an equal opportunity for destruction."
Wood persisted in the mindset that the organizations that really manage, survive or know how to deal with the chaos that is happening around the world are the ones that create the change. In addition, he said that the best organizational leaders do not really avoid the chaos but rather they move in and seek it out.
Wood introduced the term "VUCA," which stands for Volatility, Uncertainty, Complexity and Ambiguity. He explained how each one of these is unique and presents challenges to organizations and leaders from his own experience and point of view.
"Culture is what guides decisions in the absence of words," said Wood. "One of my mentors once said that every single outcome that an organization achieves has a culture that is perfectly designed."
Before concluding the lecture, Wood had a question and answer session for those in the audience and eventually thanked those who came out to hear him speak. Then, the lecture ended with a few words from Charles J. Piece, executive director of Allan P. Kirby Center for Free Enterprise and Entrepreneurship.
Afterward, Wood stood outside the Dorothy Dickson Darte Center taking photos and giving his autograph to students, faculty and others in the community. They had the opportunity to speak face-to-face with Wood and shake his hand. Along with that, people were able to purchase Wood's book "Once a Warrior," which he was selling and signing his autograph on..
The Allan P. Kirby Center for Free Enterprise and Entrepreneurship will be having The Max Rosenn Lecture in Law and Humanities on March 26, 2023. These lectures are open and free to students and faculty, as well to the community in general.
Leading advocates of free enterprise and entrepreneurship are invited to campus in the fall of every year to be part of the Allan P. Kirby Center Lecture Series in Free Enterprise and Entrepreneurship. In order to keep up with a full list of past Kirby Center lecture speakers, visit wilkes.edu/kirbylecture.