Programming Board hosts murder mystery night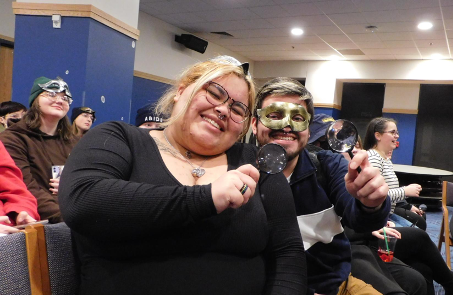 Programming board presented a Murder Mystery Night on Feb. 2 at 7 p.m. in the Henry Student Center Ballroom. Actors were present at this event and they acted out the moment in which a staged crime happened. 
"I am enjoying all this, it is really nice," said Nae Giddings, first-year early childhood education major. "I love murder mysteries and I'm a drama student also."
Not only were there actors involved in the performance but some students had roles and costumes as well. The rest of the audience were also present in being part of the investigation of finding out who the murderer was.
"I really like murder mysteries," said Aspen Kattner, first-year secondary education and English major. "I got a deep passion for them so when I learned there was going to be a murder mystery I was like wow — If there were any events that I was going to, I have known pretty much all of them, but it was definitely this one. I have been hyping it up since I learned about it two or three weeks ago."
Another fun feature to the event was that students had to work in teams to discover the mystery. Each team had a folder with clues that could help them find the murderer. Free food was provided to all the participants too.
"What motivated me to come was that I always come to the programming board activities because of its great organization, its prize incentive, food and drinks," said Moises Alvarado, senior business management major. "And so far I've had an incredible time." 
It could be said that it was a spectacular night. Next week programming board will be hosting Black History month bingo so check it out and try to win some prizes.