Programming Board's first "zen" event of the semester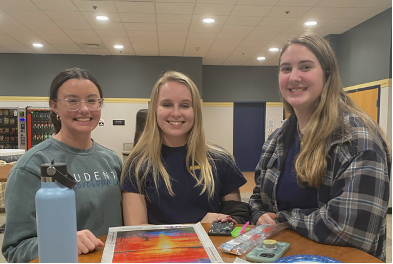 "Zen Night" was held on Jan. 26 and was carried out by the programming board in the Henry Student Center Ballroom with plenty of relaxing activities. Restorative yoga, face masks, crafts and many more were offered for students to engage in.
 "This is a lot of fun," said Daphne Shencavitz, junior biochemistry major. "It is really nice that the programming board holds this event, you know, relaxing and not very populated. It is nice to have something to come and relax at." 
The atmosphere in the event was tranquil. Slow music was played to the liking of the students and snacks, such as fruits, cookies, juices and more could not be missed.
"I like this event because it is calm," said Laila Porterfield, a first-year sociology major. "Not everybody is here, it is lowkey and you're doing your own thing."
Porterfield and many other attendees enjoyed the chill atmosphere and relaxing activities. The craft activity areas, that hosted activities such as making bead bracelets, were a hit amongst students.
"This is a new event that we haven't put on before yet," said Courntey Negra, sophomore special education and elementary education major, and programming board's big events chair. "We are doing yoga, lotions and face masks. We are doing sand art and diamond art." 
If you missed this event, consider going to programming board's next event happening on Feb. 2. Although it might not be as zen, as it is a Murder Mystery Night with actresses and audience participation, it sounds like a lot of fun and of course, as always, it is always free.