Boscov's Department Store gets a $2.5 million facelift
Kimberly Hein , Life, Arts and Entertainment Editor
August 10, 2016
WILKES-BARRE—Boscov's Department Store reopened its doors after $2.5 million renovations. The ribbon cutting ceremony was paired with the Wyoming Valley Pipe & Drum Band.
CEO Albert Boscov stepped outside his newly remodeled store to give a speech to his employees, which he referred to as a family. He assured all of the employees he will not cut jobs at this location and that they are the heart of the business. 
Gus Genetti, owner of the Best Western Genetti Hotel and Conference Center in Wilkes-Barre, presented Boscov with a plaque for his dedication to the city, which was an award from the board of the F.M. Kirby Center. He thanked Boscov for "keeping the lights on" in the city of Wilkes-Barre.
"When you think about people who have kept the lights on in downtown, I can't think of anyone that is more important to having had that effort be so successful as Albert Boscov," Genetti said.
When Boscov received the plaque, he joked that it tasted just like a hamburger and proceeded to try to eat it.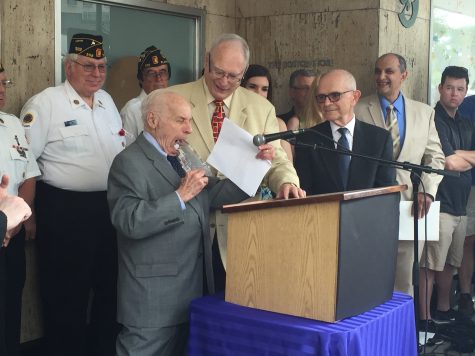 Boscov's is one of the largest family-owned department stores in the country. Boscov announced that David Boscov, a fourth generation of his family, will take over the department store after Boscov's nephew, Jim Boscov. David Boscov just graduated college and is eager to join the company in a month.
The Boscov family spent the day walking around the store, interacting with workers and shoppers.
"Albert Boscov is so personal, and it really makes me want to keep coming back," said Vanessa Serano, a Wilkes senior and frequent Boscov shopper.
After being open in downtown Wilkes-Barre for 36 years, a remodel was expected.  
The renovations included: installing new floors, lighting, fixtures, carpets, and rearranging some of the departments.  Most selections have also been expanded to be spread out throughout all five floors of the store. Several departments were moved around to different floors, such as the shoe department moving from the first to the second floor.
"The new store looks great. I can easily find everything I'm looking for without a second of hesitation," Serano continued.