Wilkes theatre performance something to 'Shout!' about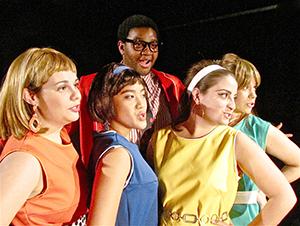 Wilkes theatre students are scheduled to sing their way back to the swinging mod years in the upcoming performance of "Shout! The Mod Musical."
Shout! will be performed by the Wilkes University Theatre from Nov. 13 through Nov. 22 at the Dorothy Dickson Darte Center for the Performing Arts. Monday through Saturday performances will begin at 8 p.m., while Sunday performances will begin at 2 p.m.
Joshua Shepard is a performing arts major at Wilkes Univeristy. He has been cast to play a main character, known as 'Red'.
"I'm really excited for the show and all that hard work we've put in to it," Shepard said. "I know the audience is going to leave with a smile on their face."
The storyline follows the lives of five people who are all identified as a color; Orange, Blue, Green, Yellow and Red; Each character receives life advice through their interactions with writing into a magazine. The show is set within the 1960s and serves as a looking glass into London's changing gender roles.
The musical welcomes audience members with the performances of featured songs including "Downtown," "These Boots Are Made For Walking" and "To Sir, With Love."
Philip George and David Lowenstein created the original musical to be centered on the lives of five females, but the Wilkes performing arts students decided to take a different approach to the original play.
"The major difference in the character, Red, is that she is now a he," Shepard said. "The reason for the change is because it adds an extra layer to the show. Even though Red is being played by a male, the plot of the character is still the same; Red is just trying to find an identity."
Shepard added that he hopes the audience will "rejoice that my character has let his wings soar" by the end of the showing of Shout! The Mod Musical.
The performance is under the direction of Teresa Fallon with Ken McGraw serving as the director of music.
Admission is $10 for the general public, $5 for students and seniors, and free for all Wilkes students, faculty and staff with identification.
For more information, please call the box office at 570-408-4540.