Pharmacy students gaining statewide attention; Members of Wilkes University's PPA chapter bring home award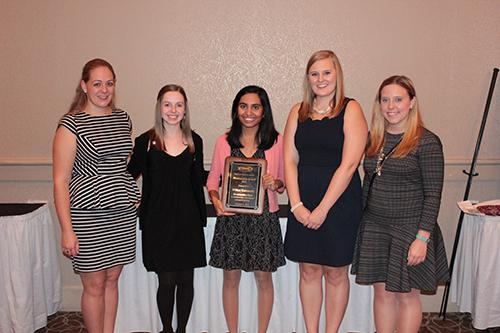 It is through good communication and campus outreach that clubs and organizations grow.
One organization on campus has created such a valuable image that its membership has gone up and its efforts have not gone unnoticed.
The Wilkes Nesbitt School of Pharmacy student chapter of Pennsylvania Pharmacists Association (PPA) has been recognized for its successful membership recruitment, retention and active involvement within PPA.
"A huge part of PPA is advocating for the profession of pharmacy. We need to be aware of the issues facing pharmacy and advocate for our profession, and PPA provides the tools and information necessary to do that," Ashley Robold, PharmD candidate class of 2017, said.
"If pharmacy students and pharmacists don't advocate for the profession of pharmacy, no one will," Robold continued.
The student group recently received a commemorative plaque and a $200 cash prize when members attended the association's Annual Conference in Grantville, PA.
The deciding committee for this award takes into account the chapter's number of activities they hold to gain memberships.
Members of PPA are dedicated to promoting pharmacy through creative and innovative efforts. Some examples of activities PPA has done over the years have to do with promoting the profession through advocacy, education and communication to enhance patient care and public health.
"During Pharmacy Week we held a Mocktail Party along with another pharmacy club (APhA-ASP) in which we encouraged students to join the organization," Trina Patel, fourth year pharmacy major said.
"Also, myself and the vice president went to the first year pharmacy students' class and briefly talked about the organization and handed out membership forms. We made sure everyone had a form."
Pennsylvania Pharmacists Association is a professional membership organization of more than 2,000 pharmacists and pharmacy students across the Commonwealth of Pennsylvania, representing almost all facets of pharmacy practice.
The value of joining this organization lays in networking and experience opportunities.
"There are many leadership opportunities in our chapter as well as on a state level. We are one of the cheapest pharmacy clubs to join ($20 per year)," Patel said.
"We have two conferences in PA in which students can network with other students and pharmacists and learn more about pharmacy. Also, many Wilkes pharmacy professors go to these conferences."
Patel also added that PPA offers "a lot of SD-IPPE opportunities which is required in pharmacy school to obtain a certain number of hours and participate in meaningful projects, like educating children about medication safety."
For more information on PPA, contact the chapter's student president, Jennifer Smith at [email protected].