The Wilkes University Lady Colonels volleyball team recently returned to action for the start of the 2014 season. They will be looking to improve off an impressive 18-15 season that included a birth in the ECAC Southeast Tournament.
Coming off another record breaking season of 937 assists 147 digs, 52 kills 32 aces and 31 blocks, junior setter Megan Powers is excited about the chances this team will have.
"I think we have the opportunity to be a great team, even though we are young" said Powers.
When asked about expectations for the upcoming season Powers said "With only two seniors and one junior, our team will have the chance to grow and learn from every set we play. We were picked 3rd for the preseason poll, and we want to be able to meet that expectation and even beat it by making it to the finals".
For the Colonels to have another great season, they are going to have to continue to get production from Powers and her partner in crime, Ally Paskas. Best of friends on and off the court, both players accredit much of their success to the other.
"Megan and myself practice hard every single day," Paskas said.
"We always work on new plays and sets. We also communicate well with our loud mouths.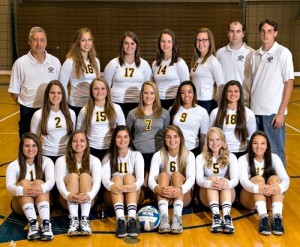 "
Powers believes their success comes from being so close off the court.
"With being as close as we are, Ally and I work really well together and we plan on making sure the whole league recognizes that. We have the chance this to really make us an outside dominant team. Ally has the ability to speed up our offense with her athletic ability and smarts."
Being the dynamic duo that they are, it's not shocking Powers and Paskas both have high expectations for this year themselves and their team this year. Paskas had an amazing freshman year that included 168 kills, 108 assists, 22 aces and 252 digs, and she is setting the bar high for this team.
"We need to have solid team chemistry this season. I want us to make it into the conference championship and finally take down Eastern."
Along with Powers and Paskas, other key returners for the Lady Colonels are senior libero, Erin Nothstein, sophomore outside hitters Marissa Mallory and Abby Sanders, and senior defensive specialist, Britney Williams.
Nothstein is a former All-Conference performer at libero. She is expected to lead the defense. Mallory returns after an excellent freshman year in which she totaled, 450 digs and 44 aces. Williams and Sanders will add depth for the Lady Colonels on a team that needs all the experience it can get.
Nine freshman will be on the roster as well and are expected to be a solid class of players. These include Lauren Hertzog, Alexis Morgan, Madison Scarfaro, Danica Benson, Theresa Couchara, Trudi Casier, Ellen Mook, Grace Boyle and Lisa Koppenhayer.
The Lady Colonels are off to a fast start this season with a record of 3-1. Wilkes returns to action Sept. 9 in Lancaster, PA against Lancaster Bible College and won't return home until October 1st against Delaware Valley College.