Latest Sordoni Gallery exhibit explores French art and culture
On Aug. 3 the Sordoni Art Gallery opened its new exhibit, "L'Esprit: Exploring Wit and Beauty of French Prints." This exhibition is curated by Nancy Sojka, an emerita curator of prints and drawings from Detroit Institute of Arts, and organized by Kalamazoo Institute of Arts. 
"One of the major themes we discovered when preparing for this exhibition was this preservation of simplicity in an era of rapid modernization and change," said Karley Stasko, outreach coordinator.
"L'Esprit" displays a collection of French prints from the 1800s and 1900s and includes a variety of styles, such as commercial illustration, political cartoons, impressionism and proto-cubism. Also, there are over 30 artists who are featured in this exhibition.
"There are some big names that even art newcomers would recognize: Gaugain, Renoir, Valadon, and Cézanne," said Stasko. "But there are also some really awesome important figures like Daumier who aren't as well known but super influential."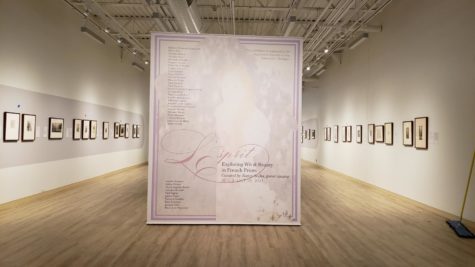 The exhibition mainly features lithographs and etchings, which are media most of the famous French impressionist painters are not well known for but their styles are still apparent in these works.
"What is fascinating about the show is the number of bucolic landscapes and humble work that is displayed," said Heather Sincavage, director of the Sordoni Art Gallery. "It seems to suggest that artists wanted time to slow down. Why? Well, they were working at the onset of the Industrial Revolution. Things were changing rapidly, Paris was at its height of art world influence. This exhibition is France while it was the world seat of culture."
Not only is this exhibition special and different since it contains the works of historic and renowned artists but it is also interactive. There is a makerspace titled "Within One Life," which Sordoni Art Gallery's design fellow, Alyssa Roberts, senior digital design and media art major,  worked alongside with Stasko to create a cross-curricular timeline of all the enormous changes that were occurring in the lifetime of individual witnesses. There is also a reading nook that holds a selection of contextual works from the Farley Library for visitors to peruse. 
This exhibition is unique in another way too. Usually, the Sordoni Art Gallery presents exhibitions that are meant to spark conversation about socially relevant issues and Stasko was concerned about how "pretty" the pieces in "L'Esprit" are.
"Our director, Heather Sincavage, excels at putting together really socially important exhibitions and I was hopeful that she would find a way to bring in that cross-curricular conversation that makes exhibitions at the Sordoni Art Gallery so special," said Stasko. "Fortunately, we quickly discovered that these 'beautiful' works were in communication with the zeitgeist and that there was a lot more going on between the 1800s and 1900s than we had realized."
Many students enjoy walking through the Sordoni Art Gallery and seeing the new exhibitions they present. It is a good way to kill time between classes and look at some beautiful artwork all at once.
"When I heard the gallery was doing an exhibition with French prints I was so excited to check it out," said Haley Katona, junior political science major. "I always try to see the new exhibits when they open and I love history and French art, especially Cézanne's works because he is one of my favorite painters so I think this exhibition might be one of my favorites."
Some important information for visitors to be aware of are the Sordoni Art Gallery's hours of operation: Tuesday through Friday 10 a.m. to 5 p.m. and Saturday noon to 5 p.m. Masks are required to be worn in the gallery.
Also, live events will be starting again and the first one is an Art in Context Lecture titled "Making a French Print Connection" with curator Nancy Sojka. 
Stay tuned for the other events the Sordoni Art Gallery has planned for the fall.
"We host four to five shows a year so it's good to follow us on social media so you know what's going on," said Sincavage. "If you didn't like this show, come back and try another.  We always show something different. We also do pop up events and free giveaways all the time so it's good to be in the know."