Adjusted Farmers Market returns to Downtown Wilkes-Barre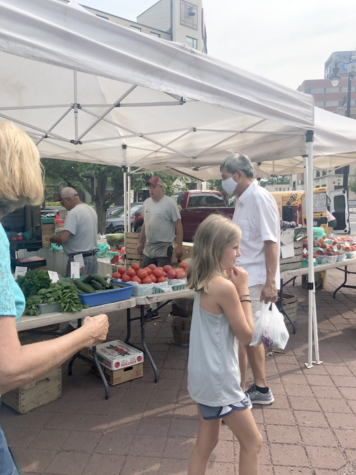 The Farmers Market on Public Square is in full swing again after taking a hit last year due to COVID-19. 
Although farmers were the only vendors allowed at the market last year, there is a lot more to see and buy this year. However, those involved with the market are trying their best to still keep everyone safe.
"We have social distancing signage around the park to remind people to wash their hands and keep six feet apart," said Patty Hughes, special events coordinator for the city of Wilkes Barre. "This year we are encouraging people to stay at least six feet apart from others even when they are outside because it reduces the chance that you will be exposed to the virus from respiratory droplets emitted by others. 
"The COVID-19 virus has made it scary for people to come out to events; I do not think some people are ready to go to public outings or large gatherings just yet."
According to Hughes, the market typically garners 300 people on a good weather day.
The Farmers Market is a great place to support local farmers and businesses. Aside from farmers, there are many other different types of vendors, including food trucks, Amish bakers, bread bakers, beekeepers selling honey and as well as nonfood vendors with clothes, toys, crystals, plants, flowers and jewelry. 
"My favorite thing about the Farmers Market is the diversity of people and their appreciation for what we grow," said Harold J. Golomb Jr., owner of Golomb's Farm & Greenhouse. "Also, hearing them share how they use their purchases."
The Farmers Market has been around for about 40 years, and some people make it a tradition to come every week to buy their produce and any other items they can find to fit their needs.
"I have been coming to the Farmers Market here in the Square for almost about 15 years now," said local resident Anita Unvarksy, 82. "There is nothing better than buying delicious fruits and vegetables from people who you know grow it fresh for you. I make it a habit to know when the opening week of the market is and I go every week until the season is over. Going to the Farmers Markets is one of my favorite things to do over the summer."
Hughes also enjoys working with the farmers and making sure to have a variety of offerings for the public.
"My involvement is to make sure that there are farmers for the event as well as food vendors and nonfood vendors," said Hughes. "I also arrange for the entertainment for the day. Something I enjoy the most about organizing the Farmers Market is talking to the farmers about their produce."
The Farmers Market is not open all year round, which means there is limited time to go there to purchase locally, freshly grown produce and other items. The market is open every Thursday at 10 a.m. and will end on Nov. 18.
"The hours of operation are 10 a.m. to 4 p.m.; however, the farmers do not get anyone after the lunch crowds are over so they generally pack it up by 2:30 or 3 o'clock," Hughes said. "Don't forget they start their day at 4:30 a.m."