The NeuroTraining and Research Center opens for the semester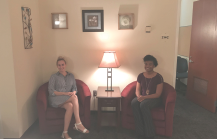 The NeuroTraining and Research Center (NTRC) has officially opened for the semester on Sept. 11. It is free for all students and faculty on campus to use and Wilkes University is the only university in Pennsylvania that has this type of facility. 
Although the NTRC is accessible on campus, many people are still not aware of it or are intimidated by the idea of going there. According to Dr. Schicatano, co-director and co-creator of the program, "Neurotraining means we are using neuroscience techniques to train the brain to perform better." 
Essentially, neurotraining is a way to change and improve the brain's functioning by teaching it how to produce certain brain waves. The technologies that are available at no cost to students have been shown to enhance academic, athletic and artistic performance, as well as promote better health and well-being by reducing stress. 
The NTRC is designed to assist clients with their stress and time management and focus levels. Their perspective goals can be achieved through three types of feedback, audio-visual entrainment (AVE), muse, and neurofeedback. 
AVE consists of flashing lights and sound. Muse tracks your meditation in real time where the goal is to have the client stay in a state of meditation longer and neurofeedback controls brain waves. It trains you to produce the ideal brain wave associated with your goal. Each technique aids your brain to understand what it is trying to achieve. 
"They are always trying to raise client's sensorimotor rhythm (SMR) brain waves and lower theta waves. Clinicians find an ideal threshold for these waves to be in for each client and use a reward system to encourage our brains to reach those thresholds. A movie, song or game plays when the ideal amount of each wave is reached. Your brain then figures out how to keep the music of the movie going and it will automatically adjust itself," said Lauren Hine, an intern at the center and neuroscience major. 
To become a client, anyone can fill out a client intel form available in Breiseth 214 or, go online to Wilkes University's website and search "neurotraining and research center" to fill out the form online. Schicatano and Bohlander will then proceed to review the from and assign a type of feedback that they believe will be beneficial based off what the individual is trying to achieve. 
Sessions can range from 15 to 25 minutes depending on the technique being done. It can also take several sessions to see your desired results, so it is encouraged to stay motivated if the results are not immediate. In addition, it is not necessary to have difficulty managing time, focus or anxiety in order to become a client. This process can be beneficial to those who get test anxiety, procrastinators, athletes or people who simply want to become a better version of themselves. 
While Schicatano and Bohlander are the co-directors, most of the work in the office is handled by interns and volunteers. Each semester there are approximately five interns and two volunteers. They work as receptionists and clinicians. Schicatano and Bohlander prescribe the treatment necessary, but the clinicians perform them on clients. Last spring, four interns were offered jobs in the field to be NeuroTraining practitioners directly out of college, in part because of their involvement with the center.  
Intern Morgan Burton, neuroscience major, was actually a client her freshman year. She often found herself drifting to sleep during classes and became a client to improve her focus. She serves as a first-hand example of the positive effects of this program. "I found it really helpful," said Burton. Not only did she benefit as a client, but she is now benefitting as an intern. According to Burton, she is receiving quality job experience and is able to apply her knowledge is a hands-on way.
For more information on the NTRC or if you are interested in becoming involved with the facility, contact Schicatano at [email protected].