PNC serves as official bank for university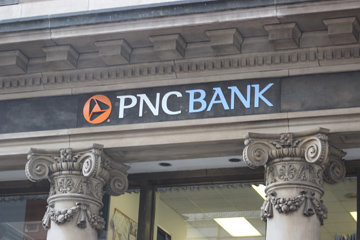 PNC is the fifth largest bank by deposits in the United States, and has maintained a University Banking program since 1996.
Wilkes wasn't always a PNC customer. In fact, it only became one in 2012. Before that, the university was with Wells Fargo, but it all comes down to location, and therefore convenience.
"Wells Fargo did not have a local presence, creating an inconvenience to our students," Associate Director of Procurement Alicia Bond said. "Wilkes has a relationship with PNC Bank and they offered to install two ATM machines on campus. Adding a second ATM machine on campus was attractive in servicing student needs.
"PNC offers online, mobile and text banking in addition to parent-friendly options," Bonds added. "PNC's free financial education seminars are all positive options available to students. After a review of PNC's commitments, Wilkes decided the local presence and extensive offerings were beneficial for our students."
Beyond Wilkes, the service, products and convenience offered by PNC are utilized by more than 250 public, private and Ivy League schools, all of which reap the benefits.
PNC has many attributes, but especially for those at Wilkes who may not be aware, PNC offers several perks. Whether on or off campus, students can easily take advantage of all that PNC has to offer.
Perhaps the most notable feature for students is the "Virtual Wallet Student," which is PNC's primary offering for students. All students like a sense of security and control.
With the motto of "spend, save and grow," Virtual Wallet consists of three accounts acting as one to help students with their finances.
As a mobile banking solution, its design also contains additional features that give a dynamic money management experience. Plus, Virtual Wallet includes Overdraft Protection, School Calendar, Wish List and a Savings Engine called "Punch the Pig."
"The PNC Virtual Wallet Student is a first-of-its-kind online banking product that makes managing money at school one less thing to worry about; for students and parents alike," University Banking Relationship Manager Brian Tymon said.
"Features like "SPENDING OVERVIEW," "PARENTS ALERTS," "REIMBURSEMENTS" and "DANGER DAYS" take the guessing game out of managing money and provide the money management tools to match the responsibility that comes with life."
Through these features, Virtual Wallet enables a connection with parents when they are most needed.
If spending someone else's money sounds more appealing than using one's own, he or she can turn to "Reimbursements" as a way to get cash for a purchase already made. Should a student's account be running low, they will receive a notification thanks to "Danger Days."
Options are also available for parents or guardians to send money with the "Money from Home" program, and they don't even have to be a PNC customer. Even better, these options are free.
And just as student can receive these alerts to let them know when something's up, parents can too, regardless of whether it is a joint account.
Tymon said PNC offers a free incoming wire transfer per monthly billing cycle and a courtesy overdraft fee waiver for the first incident that may occur during the first 12 months of opening a new account, no minimum balance required.
But there are several additional factors that make PNC the best student option.
First, students need not pay any service fees while enrolled at school and for six years after graduating. Considering the heavy financial burdens students face during their college careers, it would be fair to say that this would be much to their liking. However, it's not just about no added cost. It's also the way PNC strives to assist and lessen the load on students.
"PNC is committed to helping Wilkes students achieve their financial goals and manage their finances more efficiently than ever before," Tymon, who works in conjunction with the University Administration and local PNC associates, said.
"We're right here, with two ATM's on campus and a near-by branch. And chances are students can easily find us during breaks at home. Overall, PNC has 2,900 branches and over 7,300 ATM's in 19 states and D.C."
The ATM's are located on the first floor of the SUB and in the Public Safety Building on Main St.
Virtual Wallet can remind students to stay focused through the benefits it provides. Greater control and a clearer view of money are just a few things students appreciate. PNC also provides students with the tools necessary to keep track of money and make the saving process easier.
For Wilkes students, PNC has a customizable calendar, which allows the opportunity to see both major school events and finances.
Because students are constantly on mobile devices it makes sense that these devices have an application to the services PNC offers.
"The Mobile Banking Apps make tracking of funds easy on and off campus," Tymon said. "Students can check balances, pay bills, receive alerts and deposit checks all on their cell phones or tablets."
Essentially, students can have everything they need, right in the palm of their hand.
The information desk in the SUB has a sheet that explains that PNC has 15 years of banking experience, which gives it the leg up in knowing what's best for students and parents when it comes to banking.
In addition to all of these financial positives, there is a financial education component. Students want quick and easy access, and with PNC, they get just that.
"PNC's Money 101 is a dynamic, Web-based tool that leads students through their financial journey from financial aid to life after college," Tymon said. "Presented in a fun and easy-to-read format, this valuable resource addresses the issues most important to students."
This can also be accessed online at www.pnc.com/pncmoney101.
Looking at the bank's website will show a commitment to finding ways to make banking easy and convenient.
Classes and financial education seminars are offered on campus, covering topics like Banking Basics, Budgeting, Identity Theft and Building Credit, all of which can help students take hold of their finances while also educating about the proper ways to go about handling them.
They also serve as a basis for understanding what's important when it comes to the financial world and what to look out for.
PNC offers another unique feature for students, a feature that immediately connects them to Wilkes. That would be the PNC Bank Visa Check Card, something that comes with a simple sign up for a PNC Bank checking account
Provided that the Visa is accepted at the desired location, this card can be used to make purchases anywhere, as well as get cash at any PNC ATM, with no extra charge.
One idea behind the check card is to promote school spirit, but it goes further than that.
"Wilkes University is a true economic engine for the entire Wyoming Valley, and with a co-branded card area merchants are reminded of the value Wilkes University and its constituents contribute to the local economy," Tymon said. "Overall the University gains brand enhancement with students, faculty, alumni and parents. And it is all about choice – account holders can choose to have the Wilkes co-branded card, a traditional PNC card or they can select one of our "affinity" cards. Regardless of the card an account holder chooses they always receive built-in fraud protection."
Tymon went on to say that these check cards provide the highest level of protection, which is also beneficial for cardholders when shopping online. So identity is always safe and the card service activation is free.
All services, regardless of nature, shape or form, merit feedback, and in terms of Wilkes University, that feedback seems to carry a common theme.
"To my understanding, students and alumni really enjoy the Wilkes specific Check Card (it has a Colonel on it)," Student Development Coordinator Melissa Howells said. "The mobile banking options are extensive, so access your account from your phone is easy." The full service ATMs are big hit…you can make deposits and withdraws in dollar increments (so if you only had seven dollars in your account, you can take it all out)."
With PNC, it's about more than just banking. It can also be a friendly neighbor, for students especially.
If you're still skeptical about joining PNC Bank or are unsure of what you'll be getting with the services provided, visit https://www.pncvirtualwallet.com/reviews.html to view customer testimonials. It might help to know what others are saying.
For more information, visit www.pnc.com or call (570)-826-4614, or pick up a flyer at the information desk.