Inkin' the University
A tattoo isn't a taboo anymore, and the last 18 years of Inkin' the Valley has proven that. The annual tattoo convention is set to descend upon the Woodlands Inn in Wilkes-Barre once again on Friday, Saturday and Sunday, Nov. 2, 3 and 4. Admission to the event is $15 at the door and covers the entire convention plus free popcorn and cotton candy. The convention includes a tattoo and sideshow memorabilia auction, sideshow and clown entertainment and tattoo competitions.
With almost two decades of Inkin' the Valley behind us, The Beacon decided to spotlight some "ink in the university." Here are several current Wilkes University students sportin' some seriously significant tattoos loaded with personal meaning. Read all about the inspiration behind the ink below.
*********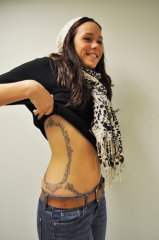 Cheyenne Cassimore
Year: Sophomore
Major: Undeclared
Hometown: Stroudsburg, Pa.
Tattoos: phrase "Hebrews 11:1" on right hip, feather with phrase "All your heart, all your soul" on left ribs, picture frame on right side
"The idea behind the frame was that over time I'll get more tattoos. I want to fill it up with everything I'm going through during my younger years, memories and little symbols that will remind me of the things I've done. In the end, it will be a reflection of myself throughout my college years."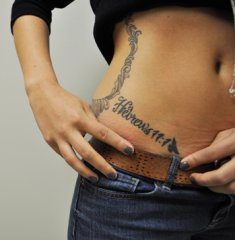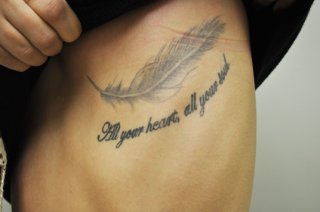 *********
Kyle Wolfe
Year: Senior
Major: Communication Studies
Hometown: Bushkill, Pa.
Tattoos: Transformers Autobots logo with phrase "Fight of your demons" on left upper arm, Thursday band dove logo on right upper arm, phrase "Have faith in me" on right leg, dog paw with halo and angel wings on left leg
"The paw print was just a paw print originally. It's my dog's actual paw print. I stamped her paw and took it to a tattoo artist and tattooed just that on my leg. Then, the end of the semester last year, right after finals we had to put my dog down. So when I went home for the summer, I had the halo and the angel wings around it."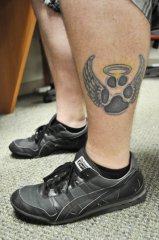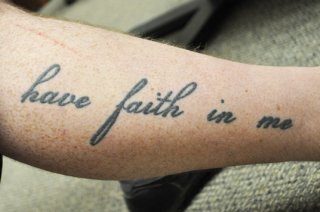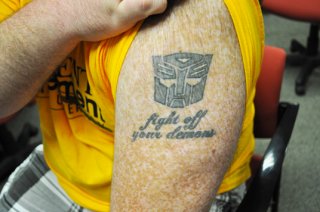 *********
Rebecca Bolus
Year: Junior
Major: Communication Studies
Hometown: Dunmore, Pa.
Tattoos:  sparrow and stars on left food, hibiscus flowers on right hip
"I was 16. It was my second job ever. I worked at McDonald's and I slaved away for an entire summer because my cousins and I wanted to visit my aunt in Hawaii. We hadn't seen her in years, but my parents didn't have the money to send me out there. So I worked my butt off all summer long to pay for it myself. When we got there, it was the best time of my life. It was paradise. I did stuff I never imagined I'd do, hiking on volcanoes, snorkeling in the oceans and swimming along with the fish. So this tattoo – it's the state flower of Hawaii – is a memory of that. It's for my family, too."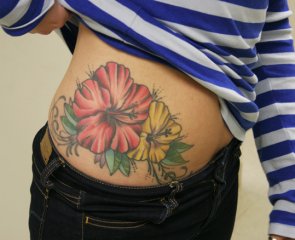 *********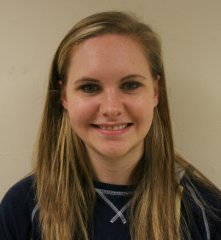 Stephanie Orr
Year: Junior
Major: Psychology
Hometown: Scranton, Pa.
Tattoos: shamrock and lady bug on right hip
"My cousin died in 2005. It was a big deal for my family, but then we kept seeing ladybugs everywhere. They just kept popping up. I'd be in a swimming pool and see one. My dad was riding his motorcycle and there was one on his mirror. It was just weird. To this day, if I see of a ladybug, I think of him. Whenever we see one, we know he's watching over us."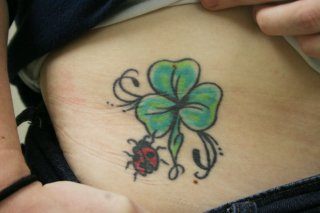 *********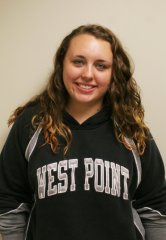 Kathryn Roshong
Year: Sophomore
Major: English
Hometown: Dumont, N.J.
Tattoos: butterfly and green heart on ankle, father's class crest from US Military Academy at West Point on back of right shoulder
"I'm terrible at math, so my senior year in high school I made a bet with my dad where if i could get an A in my first two quarters he would pay for me to get a tattoo. It pushed me. I came out of it with an A+. Throughout my whole family, West Point is the biggest thing. Since I was born, we've always been going up to West Point for football games, class reunions. Anytime we think of my dad, that's what we think of, West Point. It's like a second home for us all."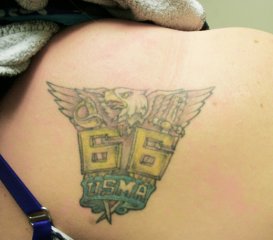 *********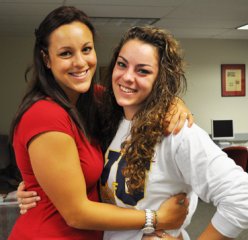 Cora & Emmie Gibson
Year: Senior (Cora), Freshman (Emmie)
Major: Elementary Education (Cora), Undeclared (Emmie)
Hometown: Monstrose, Pa.
Tattoos: mouse behind left ear (Cora), treble clef with peace symbol on right foot near ankle (Cora), infinity symbol with anchor on left ribs (Cora) and left wrist (Emmie)
"We both got the anchor portion because we both grew up on Lake Ontario together. That lake has a lot of meaning. The infinity portion is because we're sisters and we're bonded together forever. We anchor each other."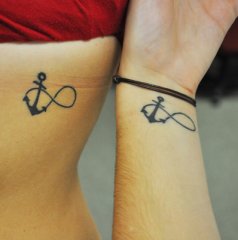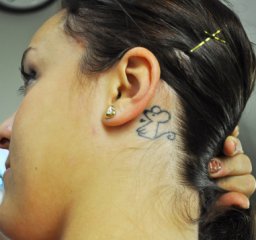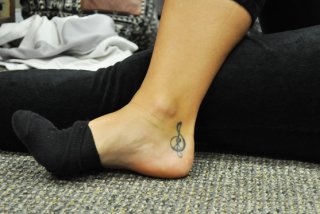 *********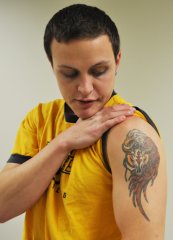 Matt Gaines
Year: Senior
Major: Communication Studies
Hometown: Cherry Hill, N.J.
Tattoos: phrase "Easy Does It" on right ribs, Native American iconography on left upper arm
"The one on my left arm reminds me of a great trip out West I took with my family. It's amazing to look up and look to the left and look to the right and all you see for miles is blue sky. There's a dream catcher in the tattoo, too. I'm a strong believer in the power of dreams."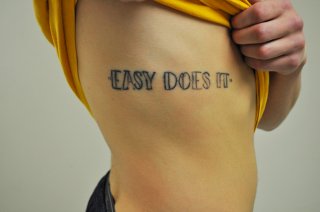 *********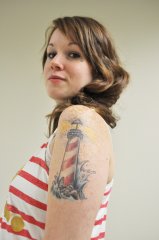 Sam Kerpovich
Year: Junior
Major: Integrated Media
Hometown: Drums, Pa.
Tattoos: lighthouse on left upper arm, lifesaver on left ankle, anchor on right ankle, shark with ear buds and phrase "And dear I fear that this ship is sinking tonight" on back of right shoulder
"I get most of my inspiration for my art from the ocean. It's so beautiful and so calming and I guess it's also kind of a nostalgia thing for me. The shark is based off my own art. The lyrics are from a song by Bring Me the Horizon. Music and art are the two most important things in my life."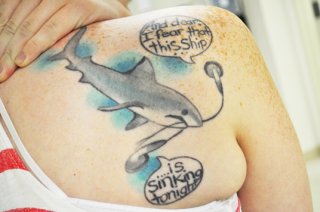 *********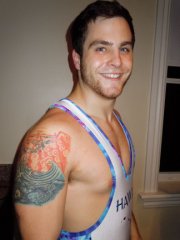 Mark Vancosky
Year: Junior
Major: Accounting
Hometown: Throop, Pa.
Tattoos: artwork from Sublime's "Everything Under the Sun" release
"I got it because it is my favorite album from Sublime and because it reminds me of my father."
*********
C.J. McClure
Year: Junior
Major: Nursing
Hometown: Middletown, Pa.
Tattoos: gecko on right side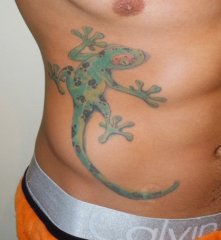 *********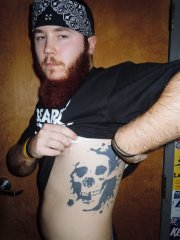 Eric Stull
Year: Senior
Major: Integrated Media
Hometown: Bernville, Pa.
Tattoos: skull of left ribs
"I got my tattoo as a metaphor that death is always there, not to be afraid of it and to embrace it.  People are always afraid of it and make it bigger than life itself.  I picked my left side ribs so I wouldn't see it all the time. It feels like I have to look for it sometimes. I plan to have that be a theme for my next few tattoos. I drew it for myself, like I plan to draw all my own material. I feel that is the only true way to be original anymore."
*********