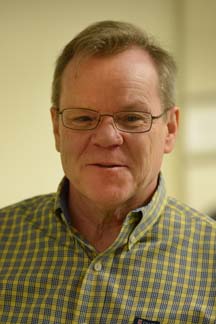 Loran Lewis has been faculty adviser to The Beacon since fall 2010. He teaches all journalism classes at Wilkes University and advises the Society of Professional Journalists-Wilkes Chapter.
Lewis has more than 30 years of experience as a journalism instructor and professional journalist. Before coming to Wilkes, he taught at CSU-Stanislaus, CSU-Fresno, California Lutheran University and the University of South Alabama. Before teaching, Lewis worked as a reporter, copy editor and editor for weekly and daily newspapers in Illinois and California.
He holds a bachelor's degree from Southern Illinois University-Carbondale, a master's from the University of Illinois and a Ph.D. from SIUC.
Loran Lewis, Adviser