Student-run Town Hall creates Riot Squad cohort
Students look to increase school spirit at sporting events, create a stronger Wilkes community
Riot Squad. The independent, unofficial group of students ready to scream their voices into oblivion in the name of school spirit.
This new group on campus is targeted at promoting school spirit. The students who founded the Riot Squad got together and noticed that, despite everyone seeming to have friends on different Wilkes University sports teams, there was no student section in the stands cheering on their peers. Hoping to change that, they came together to form the Riot Squad, an independent group of Wilkes students who prepare easy-to-learn chants, make signs, and go to the games in support of the Colonels.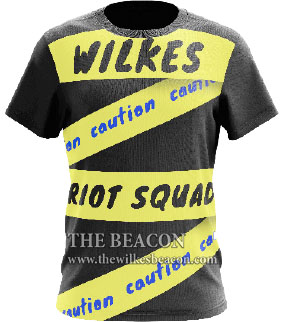 At the football games, the Riot Squad student section will be situated right next to the band. This location was chosen for a few reasons. The Riot Squad's proximity to the band allows the two of them to work together, with the band having the ability to respond to some of the different chants the Riot Squad will prep.
In preparation for the next football game, the Riot Squad will be having a sign-making session in the first floor lounge of the Henry Student Center on Friday, Sept. 21. Anyone is welcome to come and help make signs for the game. In addition, this game will be a white out, so Colonel fans are urged to show up in their white out attire. 
Not only is the Riot Squad making game signs, but tee shirts are in the works as well. Currently, there are several design options in the works. But instead of deciding on one of the options themselves, the Riot Squad will be modeling the designs at the game to get input from the student body on what they would like to see as the official Riot Squad tee shirt design. Images of three possible designs are pictured in conjunction with this article. Keep an eye out for future updates as to learn when, where and how to get shirts.
As for some background information on the Riot Squad, it is a subdivision of an overarching independent organization on campus known as Town Hall. Like the Riot Squad, Town Hall was developed in an attempt to address the lacking community feel around campus. The goal of Town Hall is to build stronger relationships with all Wilkes students and to get individuals interacting and talking with peers they otherwise would not in their day-to-day schedules.
"We are a group of students who saw room for improvement in campus culture. We talk about diversity, club involvement, student interactions, academic experiences and school spirit," said Town Hall founding member Geraldine Ojukwu. "Our options were to sit there and complain about it or do something, so we decided to find a way to make the experience we wanted from a four year university a reality."
Last semester, Town Hall got together and handed out ice-pops to anyone walking outside of the Henry Student Center, and later moved onto the quad for a game of kickball. They also organized a game of "Truth or Kale," which grouped attendees randomly and had them answer a wide array of questions about themselves. When a question got too personal, a person was obligated to drink a mixture of lemon juice, kale and other healthy food products which combined for a truly horrid drink.
This year, Town Hall is looking to host more events like these and introduce new ideas that were discussed over the summer and the early parts of this semester. Among these ideas are water balloon events and Frisky Feud (a risqué twist on Family Feud), as well as a special spirit week for Homecoming. While the spirit week would conclude with a Wilkes apparel day, themes for the other days are still being brainstormed. Ideas include Disney, Formal, Pajamas and Twin. The current plan is to come up with a list of options and send them out to the student body to vote on. There should be updates coming later in the month.
"We create activities designed to 1) try to get students to have genuine conversations with people they've never met before, 2) have leaders in different clubs find a way to co-host events in order to push for more cooperativeness instead of competition between groups, 3) help students take the necessary steps to formally report their experiences with faculty or staff, and 4) try to bring consistently high energy to sporting events, whether we win or lose," said Ojukwu. "I'll be satisfied, if not by the end of this year, but a year or two down the line, if there is a sense of Colonel Pride."
If you are interested in getting involved in Town Hall, or the subdivision of Riot Squad, the group meets in the first floor lounge of the Henry Student Center on Mondays at 5 p.m. and Fridays at 3 p.m.