Wilkes wrestling team volunteers at the Mohegan Sun Arena
Wilkes' wrestling team contributed a big role through volunteer work at the Pennsylvania Junior Wrestling (PJW) Youth State Championships, held at the Mohegan Sun Arena in Wilkes-Barre, Pennsylvania on March 23-25.
Pennsylvania is recognized as one of the top wrestling states in the country.  As a powerhouse in the wrestling subculture within the United States, it is expected that the state tournament, even at the junior and youth levels should be a major production.  The PJW Youth States requires tons of volunteers, donations and sponsors to build the event into the flourishing and successful event it is year in and year out.
This year, the city of Wilkes-Barre was privileged with putting on this event and they did not disappoint.  The work to bring this tournament to Wilkes-Barre was a process which began back in 2015 starting with a bid which pitched what the city of Wilkes-Barre could offer as host of the tournament.
The Area 12 PJW event committee presented the bid to bring the PJW Youth State Championships to Wilkes-Barre back in October of 2015.  Among many other committee members, Pankil Chander, a Wilkes wrestler and student, helped play a role in bringing the 2017 PJW Youth States to fruition.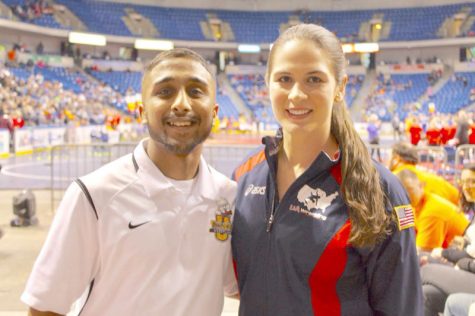 Pankil started off with roles in organizing weigh-ins for the tournament, which took place at the Wyoming Valley Mall, as well as communications and gathering volunteers for the event.
A major piece of this years PJW Youth State tournament was bringing in United States Olympian and three time World Champion Adeline Gray.  Due to connections Pankil had made at a previous internship with Asics Wrestling's consulting firm, he was able to contact Adeline Gray's public relations agent and organize for her to come to the tournament in order to promote women's wrestling, sign autographs and distribute medals to those who placed in the tournament.
"I think the reason why it went so well is that we had the perfect amount of people and the right people to handle different moving parts," said Chander. "Everyone's responsibilities, in some way, shape or form, tied together so we all had to work cohesively to make sure the event ran smoothly."
Wilkes-Barre's history of wrestling runs deep through the top notch wrestling program at Wilkes University.  So, on top of the tons of other volunteers investing their time into the tournament, it was a given that the Wilkes University wrestling team would offer its services to help give back to the sport and help make an already successful event run fluently, especially with Pankil as a board member.
"A lot of guys who are on the Wilkes team wrestled in this tournament.  Giving back to this tournament, even if it was just working a scoring table or just writing numbers down on a weigh-in sheet, you are manning the tournament and making the event run smoothly, which always makes the experience good for the kids," Chander said.
Volunteer work as a whole is highly valued to the Wilkes University wrestling team and coaches.  This kind of work not only helps the community, but it will also benefit the team.
"I think it helps build a team. Anytime you can get out in the community together and do something like this, it's good, especially in our sport which we love and pretty much helped grow us as people," said Wilkes wrestling head coach, John Laudenslager.
Putting on a large scale event such as this always requires immense amounts of people to keep things not just running, but running fluidly.
"It is community service, but more importantly, I think it is service to the sport," said Chander.
Nearly every member of the Wilkes wrestling team offered their time in some way to help give back to a sport that has offered them so much.