Three Wilkes Wrestlers named NWCA Division III Scholar All-Americans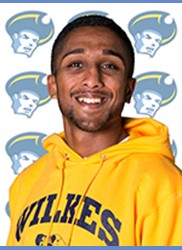 At Wilkes University, the wrestling team is known for its success on the mat. The team members and program have time and time again displayed their high level of competitiveness, and overall commitment to the sport, while representing Wilkes University.
As the wrestling season has concluded, the team members have gotten some time off to relax. The wrestling team finished with a 20-5 overall record and had many individuals continue on to qualify for the Regional tournament as well as the NCAA Championship, and even on to the National tournament. When looking at their stats, their records and their large amount of wins, it may seem like all of the time, and effort these athletes put in are directly to their sport.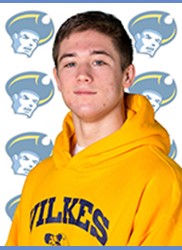 While the team does put such a large amount of time and dedication into their performances on the mat, they are also focused and determined in the classroom.
Recently, three members of the wrestling team were awarded and recognized as NWCA Division III Scholar All-Americans. This award is one of the most prestigious awards a student athlete can receive in their four years.
According to gowilkesu.com, In order to receive this award one must be in at least their second semester at a school, hold a GPA of at least 3.2 and must meet at least one of the following wrestling criteria:
1. NCAA Qualifier with a record above .500
2. Regional top 6 AND greater than .500 record AND competed in 50 percent or greater of a team's schedule
3. Record above 0.670 AND competed in 50 percent or greater of a team's schedule
The three wrestlers recognized were as follows: Pankil Chander, a senior business administration major, who currently holds a GPA of 3.26 has always put academics as a high priority. He also finished his senior season with a 29-9 individual record. Nicholas Raccaneli, a junior biology major, currently holding a cumulative 3.24 GPA, Raccanelli also had a spectacular season, finishing in the NCAA tournament and with an overall record of 35-9. Lastly, the youngest of the bunch, Denzel Tovar, has a GPA of 3.5 in the nursing program and concluded his first season with a 16-4 overall record.
"
We just want well rounded kids. Outside our wrestling walls will display the plaques of these individuals on the way to our locker room. I like to think that represents kids that are the foundation and building blocks of our team. It's our number one goal that everyone graduate.
— Head Coach Jon Laudenslager
When Chander was asked about his thoughts on receiving this award, alongside two other teammates, he stated, "This recognition is a positive affirmation on how abiding by a certain lifestyle will contribute to growth. This is great for the team overall because you have returners like Nick Raccanelli and Denzel Tovar who are hammers on the mat and work hard to do well in school, those two exhibit strong moral characters which will inevitably spread to other guys on the team creating a more well-rounded squad."
The team has always been strictly observed and instructed. It has been instilled in the team members that in order to be successful on the map, you must also be successful in all of the other aspects that are included in being a student athlete.
Nicholas Racanelli discussed the amount of time and effort it takes to accomplish this, saying, "Fridays and Saturdays are not days where I go out but they are now days where I compete. Schoolwork and studying that would normally be saved for the weekend is now done on my free time I have between classes or on days where I don't have class in the morning. Sleep is key and getting a good night's rest is extremely important not just for the body but for the mind as well."
This is clearly an achievement that has not been taken for granted, and has been worked towards by all members of the team.
Chander concluded the interview with, "Coach Laudenslager, he always emphasized the significance of striving for this award – we see the wall of Academic All-Americans every day on our way into the locker room; he says that the guys on that wall are the ones who go on to build respectable lives."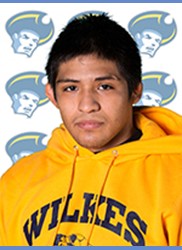 Courtesy of Gowilkesu.com
Denzel Tovar
These three wrestlers have set themselves up for endless opportunities in their futures, working hard in the classroom and on the mat has resulted in an achievement that will impact the future of this team and program as a whole.