Three of Wilkes football's finest perform on national stage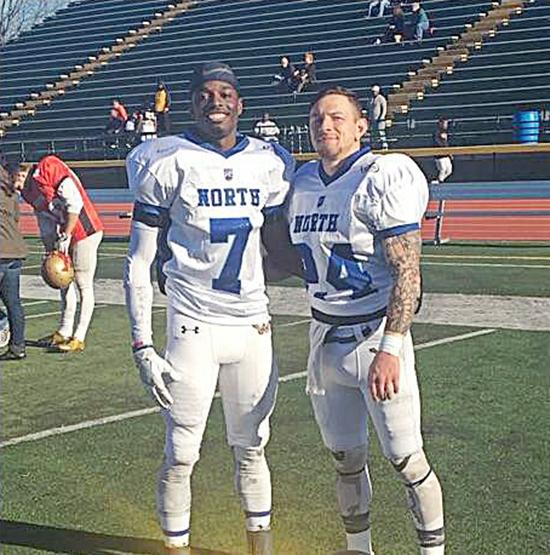 As football season begins to wind down, many senior athletes begin to feel a little nostalgic about their time ending.
Three Wilkes football seniors were able to suit up for one last game in various senior classic games. Including William Deemer, Tanner Stengel and Marcellus Hayes. These players were invited to play in various All-American Senior Classics in order to showcase their four years of hard work and exceptional talent. Stengel played in the eighth annual Tazón De Estrellas senior all-star game held in Mexico. While Deemer and Hayes traveled to Myrtle Beach to represent Wilkes University in the DIII Senior Classic.
The DIII Senior Classic is put on by the Collegiate Development Football League. The North vs. South all-star format was developed for Division III football players to showcase their skills in front of professional teams and scouts.
According to playcdfl.com George and Pete St. Lawrence, the founders of the Division III Senior Classic, saw a large increase in the recruiting opportunities in smaller division III athletics, "it was then decided to broaden the scope of their services by looking to provide more opportunity for small college players to gain exposure to the pro-scouts."
This year was the 6th year that the game has been played and has seen a large amount of success, as well as a large spectrum of talent.  The players must be selected in order to play in this showcase game.
"It has attracted the best football players Division III has to offer, for the past three years, boasting rosters that are consistently 82% All-Americans", according to playcdfl.com
While other Wilkes players have been selected to play in these games, or similar ones, Deemer and Hayes were able to have a unique experience, not only getting to play the sport they love one more time, but also play one more game with a teammate by their side.
Deemer stated, "It was awesome to share this experience with another teammate Most people are there alone but for us we get to feed off of each other as if we were playing in PA. It made the experience that much more enjoyable."
Being able to go from representing your university, fellow teammates, and coaches on a local base and taking it to the national level is something remarkable and unique. In many Division III instances, you perform on a smaller stage. This game allows senior athletes to showcase all of the hard work, time and leadership they have dedicated in their last four years, on an even bigger stage.
When asked what his favorite part of the overall experience was, Deemer said promptly, "my favorite part was being able to represent Wilkes on a national scale instead of just NEPA."