Key win ignites the Lady Colonel's appetite for playoffs
In the volleyball team's second conference game against the 6-1 Manhattanville team, the 6-6 Lady Colonels shut them out for their first MAC Conference win of the season.
Wilkes won all the three sets 25-23, 26-24 and 25-21 in what appeared to be a very even match.
"This week's MAC win is a spark that has ignited the Lady Colonels appetite for their conference playoff goal. Once in the playoffs, anything can happen," said Head Coach Joseph Czopek.
Czopek has noticed the volleyball team build after this game, especially because his team has more first-year than returning players.
Czopek is also excited about how well his team was playing during the Manhattanville game. His new players are starting to get a feel for the game and his line-up is finally coming into place. The line-up that he had during that game has proven itself.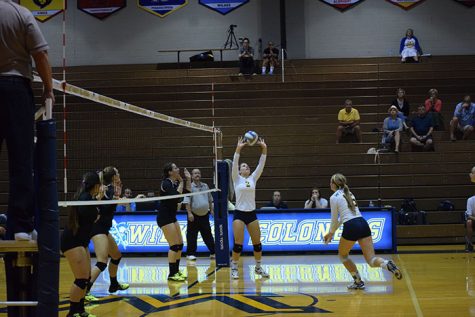 He wants to work toward developing a quick offense while polishing the team's defense. On top of that, he has a deep bench that allows him to swap players in and out to rest players when needed.
"I have been here for four years and every year has been different. Some years there is drama and some years there is none. This year in particular, we have no drama and a great underclassmen group. If they stay together for the next couple of years, they can do some damage in the MAC Freedom," said senior Ally Paskas.
Junior Madison Scarfaro is impressed with her team's record because her team did it with various new players. The new players stepped up and won this game. This game was particularly important to Scarfaro because she was seeking revenge from last year's loss against Manhattanville.
Scarfaro wants her team to come together and always give 110% in every game. She is looking to the playoffs and truly believes her team can make it. For next season, Scarfaro wants to defeat Eastern because they have been the best team in the conference and always nationally ranked.